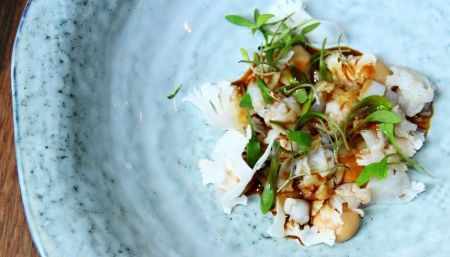 Den Lille Fede
International cuisine with Nordic tones close to Kongens Nytorv.
Den Lille Fede
Indre By
International cuisine with Nordic tones close to Kongens Nytorv.
Why you should dine here:
International, gastronomic manifestations
Historic property in Boltens Gård
Travellers' Choice 2020 on TripAdvisor
Boltens Gård - a food mecca
In 1771 Baron von Bolten erected a half-timbered building - a historic property that was originally a central player in international trade. Today, the farm is known as Boltens Gård and houses several restaurants and smaller food places.
Since 2001, Den Lille Fede has invited guests indoors for culinary flavors in pleasant and romantic surroundings.
Guests' enthusiasm
Den Lille Fede scores 5.5 stars out of 6 possible with over 9,000 reviews on Dinnerbooking.com.
At TripAdvisor guests are saying:
"Seriously good food, good wine and great service !!!!! Have visited The Little Fede several times, and are every time impressed with how they can maintain such a high standard of serving food."
Several agree and mention: "Super delicious food, super good service." And "Become one of our favorite restaurants for us."
The kitchen is the chef's playground
Today's dishes are tested, tasted and refined for a long period before being presented on the menu. The gastronomic unfoldings are of international character with inspiration from all corners of the world.
The dishes are based on the seasonal supply of raw food products.