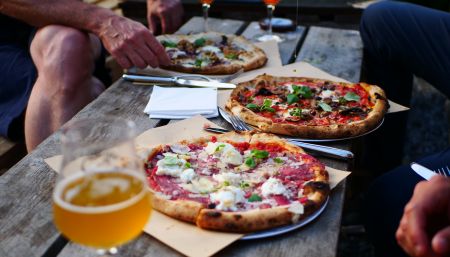 Tribeca Beer & Pizza Lab
New York-vibes and Italian food in an old industrial factory.
Tribeca Beer & Pizza Lab
Nørrebro
New York-vibes and Italian food in an old industrial factory.
Why you should dine here:
You love pizza and a good beer
Delicacies and ingredients imported from Italy
Informal coziness
Tasteful pizzas with self-service in the bar
In an old industrial building from the 30s a rough diamond is hiding. The restaurant has a modern vibe with a more spartan, New Yorker look with lots of glass, metal and raw bricks.
At Tribeca you will not find the normal table service. Instead the restaurant strives for self-service where guests may ask questions at the bar. You announce your arrival here and will in some cases be handed out the food. You will find the entrance on Bisiddervej.

Said by guests
On TripAdvisor and Facebook Tribeca's guests have giving a few words along the way:
"Good atmosphere, really good service, food and super good beer"
"The best pizza. The prices are a bit high, but the quality of the amazing pizzas outweighs it"
"Great food, great atmosphere and great service"
"Super delicious pizzas on fantastic ingredients. Class in hip and cozy surroundings"

Italian quality
Tribeca strives to use organic ingredients and has great respect for the origin of the ingredients and is happy to hand-pick the products from their Italian suppliers.
The pizza flour is from the coveted mill, Antico Molino Rosso, and the ham, sausages and cheese are imported from Italy.
The menu offers a bit of everything - everything from pizza and Italian delicacies to delicious wines or dewy beers from Ugly Duck.