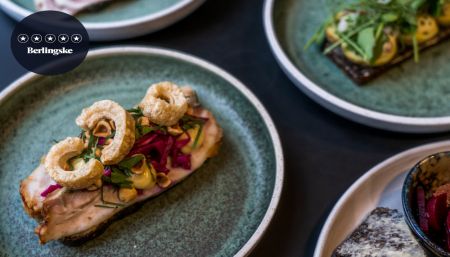 Smör
5 stars - Modern Danish smørrebrød and Nordic dishes in the National Museum.
Smör
Indre By
5 stars - Modern Danish smørrebrød and Nordic dishes in the National Museum.
Why you should dine here:
5 stars in Berlingske
Restaurant at the National Museum
Reinterpreted Danish smørrebrød
Quality beer and specialty schnapps
Danish smørrebrød with surprises
As the name refer to in Danish, restaurant Smör offers a spreadable menu for lunch. Smör's culinary cuisine is based on solid craftsmanship and sustainable and organic ingredients in season.
The kitchen focuses on Danish food and is known for their reinterpreted smørrebrød dishes, but also surprises with decorative and delicious flavor constellations with a 3 course menu.
Taste e.g. cold smoked salmon with herb emulsion, pickled green tomatoes and dried egg yolk. Chicken salad with pickled mushrooms and crispy chicken skin or baked artichoke with fermented garlic emulsion and sea buckthorn crudité.
Try a historical and seasonal menu with dishes like Midgårdsorm and Ragnarok with a quality beer and regional schnapps in the glass.
Danish food tradition with 5 stars
Madkastellet is an active player on the gastronomic food scene and a specialist in creating restaurant experiences where both the menu and atmosphere impress guests and food reviewers.
Have a visit at Brede Spisehus, Peter Liep's Hus, KAYs or PanPan in Zoo.
Smör is also a hit. Food critic Søren Frank from Berlingske wrote about the Danish smørrebrød: "
Turned out to be one of the city's very best and thus worth waiting for."
Culture and gastronomy gathered in the National Museum
Smör is located inside the National Museum, but luckily an entrance ticket to the museum is not required to be able to sit at the table in the restaurant.
Book a table and enjoy gastronomy in an inviting and beautiful, open setting. There are high ceilings, dark wood panels, smoked glass lamps and herringbone parquet floors.