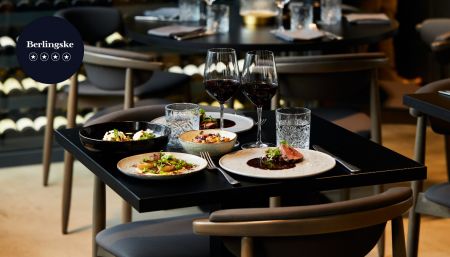 Darling Bistro & Bar
New Nordic gastronomy with a French touch and atmospheric setting with canal views.
Darling Bistro & Bar
Indre By
New Nordic gastronomy with a French touch and atmospheric setting with canal views.
Why you should dine here:
French-Nordic taste constellations with new techniques
You love a good steak
Open sandwiches out of the ordinary
Basement cosiness with canal views
Menu card without frills
Darling's kitchen prepares, without hesitation, the best Nordic ingredients with focus on the taste. The techniques are sharp and the local ingredients fresh. There are freshly interpreted open sandwiches, seafood dishes and French-inspired bistro dishes such as mussels, wagyu steak and grilled greens on the menu.
The concept is af hit
Combining a classic, Nordic cuisine with present serving and the bartender's straight up cocktails, is definitely a hit among the restaurant's guests. On Facebook and TripAdvisor they say, among other things:
"Fantastic nice service and delicious food."
"Delicious food, simple serving, creativity in the kitchen, everything in drinks, super service .... everything in top class."
"Cozy and beautiful premises. Ate lunch, their open sandwiches were tasty and beautifully served with their own interpretation."
"… Lovely decor with a view of the wines from the interesting wine list."
Detailed frames with a view
From the cobbled terrace there is a view of Slotsholmen and the inner city life passing by. Take a few steps down the stairs and experience a neat, modern furnished bistro basement with a bar section and an inviting dining area. Here are a custom-built wine cold room and a seafood counter that exudes gold.
The stylish table setting with crystal glass and dark decor with sharp, clean lines is broken by beams, brass and soft lighting from pendants hanging down from the ceiling and a pair of soft pillows. Sit down at the table and soak up the informal, cozy atmosphere.
It is not possible to combine an Early Bird booking with other offers.