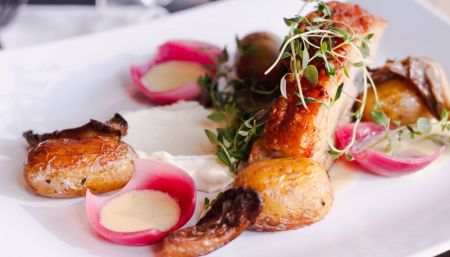 Det Simrer
Sustainable and organic slowfood on Østerbro.
Det Simrer
Østerbro
Sustainable and organic slowfood on Østerbro.
Why you should dine here:
More flavor in Slowfood cooking
Sustainable concept with ecology on the menu
A cozy dinner for two
Ecology and tasty flavors
At Østerbro you'll find the slow food restaurant, Det Simrer. Here, the focus is solid simmering food, ecology and sustainability which is reflected in a number of creative initiatives such as reducing food waste and save on electricity and water.
The restaurant makes an effort to use organic and biodynamic ingrediens from local and Danish suppliers. Coffee, milk, butter, eggs, sugar, flour, vegetables, bread and soft drinks and juices are from Naturfrisk and organic.
The words of the diners
On TripAdvisor restaurant guests say:
"Good simmering food, good beer and good service"
"Cozy little restaurant and really good simmering food at a reasonable price"
"Det Simrer 'is a wonderful bistro with classic simmer dishes both Danish and French cuisine"
Bottle quality and sustainability
In addition to delicious comfort food, you will find a large selection of quality beers, including from Krenkerup Estate on Lolland, which brews according to the German "reinheits Gebot" - beer without E-numbers, preservatives or other additives.
The decor is cozy and inviting with views of wines and the kitchen's fermented specialties in showcases and showcases.