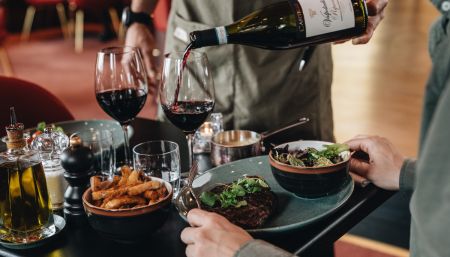 Angelini
Italian-American cuisine at Copenhagen Plaza.
Angelini
Vesterbro
Italian-American cuisine at Copenhagen Plaza.
Why you should dine here:
Grilled quality meat
Italian-American fusion cuisine
Ideal to visit The Library Bar or Tivoli around the corner
Cosy and historic settings
Angelini is located in the heart of Copenhagen by the well-known Copenhagen Plaza, which has adorned the cityscape opposite Tivoli, since the First World War.
The atmosphere at Angelini is relaxed and sets the stage for a cozy dinner with friends, boyfriend or family.
After enjoying a well-cooked meal, a must visit is the Plaza Hotel's unique The Library Bar, named one of the world's top five hotel bars by Forbes Magazine due to its alluring environment and elegant décor with stylish Chesterfield furniture.

Solid recommendations from happy guests
"The staff was extremely serviceminded and the place had a cozy atmosphere"
"An absolutely fantastic service by a smiling and present waiter, so we never lacked for anything. Delicate and varied dishes made with the most delicious ingredients"
"Delicious crispy pizza and lovely dessert - full value for money"

Italian-American fusion cuisine
Angelini's menu offers delicious Italian specialties - pizzas and creamy pasta dishes - and American classics such as a good, tender steak and a juicy, snazzy burger.
The dishes are prepared with care and the ingredients are carefully selected based on as many local ingredients as possible.