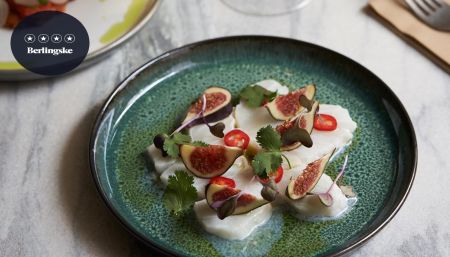 Yaffa
Israeli cuisine with 4 stars in AOK and ranked in The white Guide as 'Very Fine Level'.
Yaffa
Indre By
Israeli cuisine with 4 stars in AOK and ranked in The white Guide as 'Very Fine Level'.
Why you should dine here:
4 stars in Berlingske for the 'funky cuisine'
Ranked in White Guide: Very fine level
Successful man behind the city best restaurants
If you want a culinary food experience
3-clover inspired by Israeli cuisine
Yaffa is just one of the Cofoco founder, Torben Klitbo's, many successful and critically acclaimed restaurants. Quality is one of the core values ​​when you make your way past Torben's restaurants, which include counts award-winning Harvest, Llama, The Fat Pike and The Shrimp.
In collaboration with two gentlemen, known from the bar universe, Yaffa has been born with a love of the Middle Eastern goodies and diverse tastes.
4 stars from happy Berlingske food reviewer
The Middle Eastern cuisine took Svend Rasmussen's critical critics' stomachs by storm: "Finally, one of the most trendy and funky kitchens of the time has come to Copenhagen". He acknowledged his visit with 4 stars. In addition, the kitchen style and atmosphere are applauded with guest reviews on TripAdvisor:
"Both food and wine are of high quality at Yaffa. There are many exciting flavors and the dishes are spicy enough without being too strong"
"Delicious food, good atmosphere, cozy and relaxed atmosphere"
Completed and beautiful details
'Beautiful' is the Hebrew translation for Yaffa. Take a seat in the decorative, graceful surroundings that lead to modern Tel Aviv, the port city with the Mediterranean at its foot. Yaffa is not just a treat for the taste buds, in terms of design, the southern olive green color shades are sharp for the sandblasted marble tables and the dark wood.
Enjoy sharing-friendly dishes - a dream of Middle Eastern flavor constellations with a well-balanced spice and ingredients cooked to perfection.