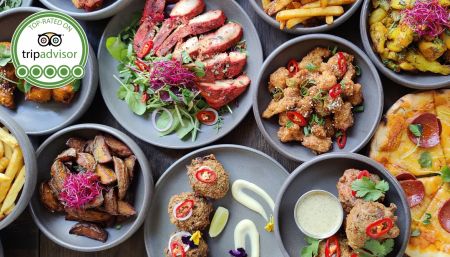 Zahida
Authentic cuisine ranks 1st as the best rated Indian restaurant on TripAdvisor.
Zahida
Indre By
Authentic cuisine ranks 1st as the best rated Indian restaurant on TripAdvisor.
Why you should dine here:
TripAdvisor best reviewed Indian restaurant in Copenhagen
Authentic Indian and Pakistani dishes
You love a good curry
Beautiful, atmospheric setting
South Asian flavor explosions
Be seduced by an exotic cuisine when Zahida invites you inside for traditional Indian dishes with constellations from both north and south, to which a portion of Pakistani spice and a few family recipes have crept into the menu.
Eat aromatic curries, both mild and strong flavor explosions, tandoori delights, butter chicken, airy naan bread, long-lasting meat and appetizing vegetarian dishes.
Indian at its best
Zahida ranks 1st as being Copenhagen's best reviewed, Indian restaurant out of 54 possible on TripAdvisor. Guests also agree that the restaurant's hospitality, beautiful, decorative setting and culinary craftsmanship are at the heart of Zahida's success and worthy of a recommendation.
"Great food and present service. Best recommendation. Cozy and relaxing atmosphere."
"Definitely the best Pakistani / Indian food I've tasted in a long time."
"… Can definitely be recommended. I got a masala steak and it was cooked perfectly."
Formal setting with candid servicing
Invite family or a few friends for a sensuous restaurant experience. Zahida screws up the restaurant scene with detailed features and beautiful rooms. It is nicely covered up, candles are lit on the tables and the cherry blossoms adorn the ceiling and down.
The neat table setting is broken by pop art on the walls, colorful furniture, turquoise brass lamps and large exotic palm trees. So go on an excursion and experience Asia's hospitality, heat and culinary flavors.