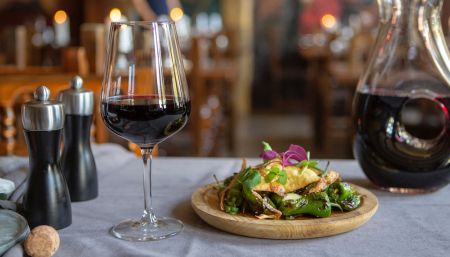 El Meson
Authentic tapas delights and delicious grapes at the city's oldest Spanish restaurant.
El Meson
Indre By
Authentic tapas delights and delicious grapes at the city's oldest Spanish restaurant.
Why you should dine here:
You have long dreamed of eating your way through Catalonia
Authentic, Spanish sensory experience
Travellers' Choice 2021 on TripAdvisor
Spanish well-being
Have a taste of Spain and gather friends and family for an authentic restaurant experience at El Meson.
El Meson oozes of southern warmth and serves only the very best of the Spanish cuisine - taste the exquisite tapas delights, have a classic paella, pan con tomate or a sensuous meat and fish dishes and creme Catalana.
In the middle of the city, you can combine the edible temptations with a strong, aromatic wine profile, primarily with Spanish winemakers. Enjoy a glass or maybe a whole bottle of e.g. Emilio Moro or Allende Rioja.
The guests recommend
On TripAdvisor, El Meson has received the certificate 'Travellers' Choice 2020', places in the top 3 of the best reviewed, Latin American restaurants in Copenhagen, to which guests say:
"Good variety on the menu and there is plenty of food!"
"A lovely place with good host - very authentic food of good quality"
Copenhagen's oldest Spanish restaurant
Be treated to a Spanish tapas bar in Barcelona. Take a seat outside on the terrace and enjoy the life and summer sun in the hot months and jerk inside when the cold starts to bite. The frames are warm with rustic interiors, raw bricks, terracotta colors and fire in the fireplace.
As a funny note, the tapas are from Andalusia and mean lid in Spanish. Originally, tapas was not something you ate, but a piece of bread or ham that was placed over the wine glasses to avoid insects. Today, the edible lid is a coveted eat that can be easily shared.