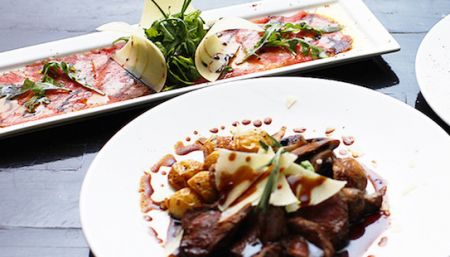 Restaurant Fabio
Romantic settings and authentic, Italian cuisine at Fabios.
Restaurant Fabio
Frederiksberg
Romantic settings and authentic, Italian cuisine at Fabios.
Why you should dine here:
Authentic Italian cuisine
Family with Italian roots runs the restaurant
Romantic Tuscany-inspired settings
The flavours of Italy
Fabio Avenoso (formerly known as chef at Go' Morgen Danmark) and his wife, Christine Aagaard, had a passion and a dream of opening an Italian restaurant.
Fabio has found inspiration through his Italian roots and the kitchen offers a personal 'Cucina Casareccia' (country kitchen) inspired by Fabio's female role models, his mother and grandmother.
Restaurant Fabio conjures up traditional, tasty Italian dishes such as freshly homemade pasta and heavenly desserts. Fabio's wine list is of course characterized by quality and has wines from recognized wine districts.

Frederiksberg's authentic Italian
The restaurant is very popular and gets good reviews:
"Cozy restaurant with authentic Italian food. Very tasty food, friendly service and cozy courtyard"
"Great atmosphere, skilled waiters, worth the money"
"… A welcoming, romantic and atmospheric little restaurant!"
"… Authentic food and nice atmosphere"

Romantic settings with an Italian charm
Stars such as Tom Jones, Elton John, Pamela Andersson and Isabell Kristensen have enjoyed Fabio's menu.
The restaurant's cozy and romantic settings are reminiscent of the movie La Dolce Vita. Here are brick walls, chandeliers, candle lights, fine portraits and flowers on the tables.