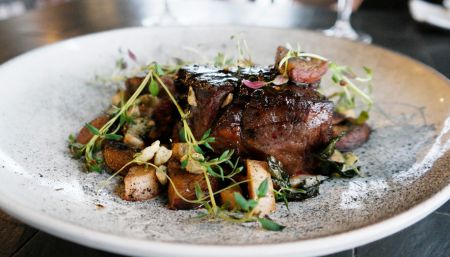 Aristo
Harbor views and French/Nordic cuisine with genius from the Michelin world.
Aristo
Amager
Harbor views and French/Nordic cuisine with genius from the Michelin world.
Why you should dine here:
Eat with harbor view
Chef with previous Michelin experience
Gastronomic surprises and tasty drinks
Cook with Michelin experience
Take a seat at Aristo and have a complete, gastronomic restaurant experience. The taste is French / Nordic cuisine with a spicy touch of the East. The essence is the passion for the good craftsmanship and the love of the ingredients.
Good food is executed by flavored ingredients, and Aristo's kitchen team has both flair and interest in new techniques, ecology and exciting constellations. The team includes a former chef from the Michelin-starred restaurant Marchal on D'Angleterre.
Gastronomic delights
Book a table today and let yourself be seduced by elegant dishes with a bang on the taste palette. Maybe you will be able to admit the good restaurant experience like other guest reviews on TripAdvisor:
"The restaurant has a great location, super delicious food and really good service. Definitely worth a visit."
"… It was a Gourmet experience and we will come again (and again and again) until it is all tasted."
Restaurant with a view
Large panoramic windows encapsulate restaurant Aristo at the foot of Langebro. Here on the sunny side, views of Tivoli and the Glyptoteket can be enjoyed from the terrace or indoors in a modern, Nordic setting.
The servicing is warm and ensures i.a. to match your preferences in terms of matching menu and a rich wine list. In addition to classic Italians, dry burgundy and overseas notes, there is also a good selection of cocktails and sweet port wines for dessert.