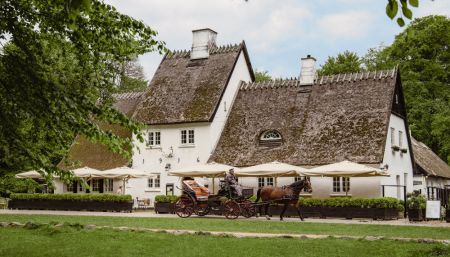 Peter Liep's Hus
Modern inn kitchen - in the middle of the forest but close to the city.
Peter Liep's Hus
Storkøbenhavn
Modern inn kitchen - in the middle of the forest but close to the city.
Why you should dine here:
Iconic idyll in Dyrehaven
Modern and innovative inn kitchen
Menu that reflects the forest around and the sea close by
Idyll and taste in Dyrehaven
Go on an excursion to Dyrehaven in North Zealand. Here in the beech forest lies the charming gem, Peter Liep's House, which offers plenty of history and an idyllic setting. The house was formerly a fencer's house and was run by the forest warden, Peter Liep, who hosted the place from 1888 to 1896.
Today, Peter Liep's House has been modernized, but still exudes soul and history. Here are both thatched roofs, window shutters, plank floors and original beams in the ceiling and fireplace.
You are in the middle of the forest, but only a five-minute walk from the nearest S-train station.
Menu from forest and beach
The modern inn kitchen reflects the house's unique location and takes pride in reinterpreting and refining the Danish inn dishes based on the season's best, available ingredients. Starting in the backyard, the beech forest and Øresund, you eat both forest herbs and mushrooms in addition to animal meat and freshly caught fish from the sea.
How does stag do as either tartar or filet, venison sausage or mushroom-stuffed quail?
The lunch menu offers classic smørrebrød; long-aged herring, prawns with free-range eggs, home-baked sourdough bread, pheasant salad or dishes such as tartar from Dyrehaven's game or willow crab claws.
Dinner with a view
Visit Peter Liep's Hus in Klampenborg and enjoy an evening in the forest, eat with a view and toast cold draft beer or European and overseas wines.
"Fantastic food and good wines. Friendly service at Peter Liep's, we would love to come again."