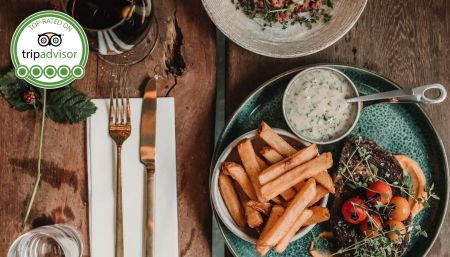 John&Woo Nordhavn
Charming bistro cafe with beautiful classic menu on Nordhavn's harbor promenade.
John&Woo Nordhavn
Nordhavn
Charming bistro cafe with beautiful classic menu on Nordhavn's harbor promenade.
Why you should dine here:
The harbor view is the icing on the cake
A gastronomic experience between the North and South
Athlete makes sure the experience plays around
Charming French inspired bistro
Bistro extension
The popular duo, Sune Woo and Michael Maze, opened John&Woo Under Elmene at Amagerbro in 2019, which quickly became a big hit.
Now you and your friends can enjoy the delicious menu at the sister restaurant on Nordhavn's cozy promenade. Here, both the view and the tableware play around the table - and yes, the name Maze, may ring a bell. Michael has switched his ping-pong career out with the restaurant industry and is now making his entrance as a restaurateur.

Nordhavn's swirling pearl
If you are looking for great guest reviews, you should check out John & Woo's on Tripadvisor. Both the food and the careful service are applauded here.
"We visited John & Woo in Nordhavn and got their veal with bearnaise and accessories. I do not remember when I last got SO tender veal, but it is a long time ago. "
"Really great place, with delicious food and great service."
Gastronomic spot shot
The focus is on the good ingredients, which cover both a piece for the morning, dinner and the classic, bistro-inspired menu for the evening. Here you get wonderful, traditional dishes with modern surprises.
The food is homemade with a taste guarantee from the Nordic countries and the French Mediterranean. And on the menu you will find both tender meat cuts, a delicious 3-course menu and the large tasting menu, which can whet the appetite.