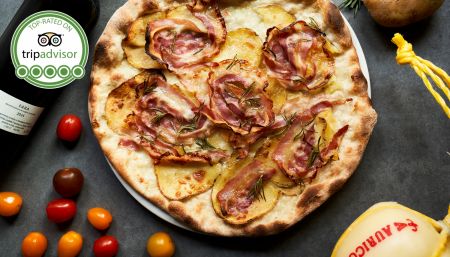 Pizzeria MaMeMi
Pizzeria honored in the Italian food magazine, Gambero Rosso.
Pizzeria MaMeMi
Vesterbro
Pizzeria honored in the Italian food magazine, Gambero Rosso.
Why you should dine here:
Italian family business with Michelin experience
Italian magazine gives top ranking
'The city's best Italian restaurant 2020'
One of the best Italians in town
The renowned Italian food magazine, Gambero Rosso, has mapped the city's best Italian restaurants for 2020. On the magazine's top list you will find Pizzeria MaMeMi, with a quote: "It is a pleasure to come here and enjoy the pizzas created by a team of young people from Rome."
At Pizzeria MaMeMi you get a taste and a piece of the Italian culture. The pizzas are crispy on the outside and deliciously soft inside - MaMeMi offers a culinary pizza experience.
The city's second best Italian
"Can't remember when I got better pizza lately. The standard is super high. Mums. Service is friendly and efficient. Will definitely come again!."
On TripAdvisor, this Italian restaurant is rated 5, and the second best rated Italian out of 244 Italian restaurants in Copenhagen.
Brothers with Michelin experience
In the kitchen stands the Barletta brothers, Francesco and Danilo, who both have composed CVs. Among other things a sommelier title from the former 2 star Michelin restaurant Akke Scala in Milan can be shaken off their sleeves. So, in addition to tasty pizzas, you are offered a full and complex wine list with several hand-picked organic producers.