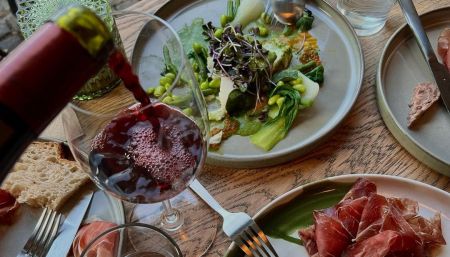 NORS Food & Drink
An award-nominated building hides international all-day meals and great family service.
NORS Food & Drink
Amager
An award-nominated building hides international all-day meals and great family service.
Why you should dine here:
Dine in an iconic and award-nominated building
All day dining experience
International menu card
Casual family-owned eatery
International menu for all occasions
At NORS Food & Drink everything from delicate pastries and a good brunch, sandwiches and healthy and fresh salads can be enjoyed almost all day long. In the evening the menu consists of share-friendly dishes and a distinctive wine list and colorful cocktails.
NORS is run by the Norsell family who have traveled internationally and lived outside the country's borders for several years. The family's passport has spent several years in Australia, so taste input from Downunder comes naturally to the family on the menu.
In collaboration with the team's international chefs, dishes are created and adapted to the season and from the best ingredients. They serve honest food, own favorites and popular dishes.
Good critique of honest food and service
The Norsell family has made it their specialty to provide their guests with friendly and attentive service.
On Google it says, among other things:
"Super cozy atmosphere, delicious shared food served with a smile."
"Fantastic place with an exciting menu and personal service."
"... polite and smiling service and fair prices."
Also the food receives good feedback:
"A pleasure to be able to taste several different dishes. Super sharing-friendly, so try something different - Sharing is caring."
"Super delicious food (quality ingredients)."
Relaxing atmosphere and café setting
The Norsell family have settled down under the iconic A-house on Islands Brygge (nominated by the World Architecture Festival as the world's best building, 2010) and opened an informal eatery.
NORS has room for everyone and is passionate about being the locals' informal go-to café.