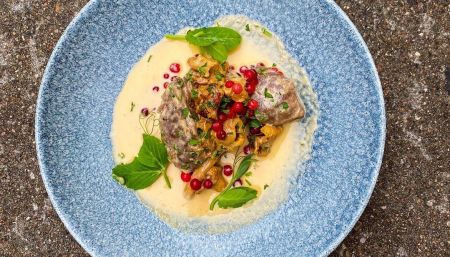 Cap Horn
Gem with sustainable trademark serves Nordic-French food in colourful and maritime setting
Cap Horn
Indre By
Gem with sustainable trademark serves Nordic-French food in colourful and maritime setting
Colorful and homely atmosphere
Nyhavn offers a vibrant life and has lots of old, historic buildings. Like this address, no. 21, thirsty sailors and easy-going ladies previously visited Nyhavns historic buildings. However, it is far from the atmosphere and approach you'll find today.
At Cap Horn there is a fireplace, the atmosphere is warm and relaxed and the interior is a mix of a French bistro, whimsical details and maritime decorations such as model ships, art, photographs and old posters.
In addition there is a bright and happy color palette which let the table setting light up because of the white tablecloths.
Sustainable trademark
In addition to Cap Horn's personal service, sustainable thinking has become the restaurant's trademark - and were giving the organic silver food certificate. This is accelerated by many guests, i.a. on Facebook and TripAdvisor:
"We have had lunch there several times and the food is well cooked"
"Amazing food and outstanding service"
"Super good service"
"Excellent kitchen in a very nice location"
The organic choice
The title as Denmark's first organic restaurant is something Cap Horn can brag about and entices with a Scandinavian cuisine with a touch of France and a menu filled with 60-90% organic ingredients.
The menu is seasonal and with consideration for the environment, quality and fresh ingredients from local producers are weighted highly.