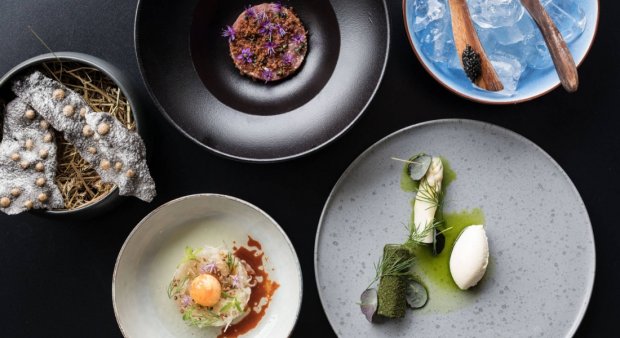 Guide 2023: Popular restaurants in Copenhagen | 1/3 of the price
Updated 13.09.2023
Find the best restaurants in Copenhagen with the restaurant service Early Bird and get 1/3 off the price.
Besides being a beautiful and historically interesting city to visit, Copenhagen's dining establishment is unique. It ranges from stylish, modern eateries focusing on international cuisine, to local, intimate and innovative restaurants. Whatever your taste or pricing preference, Copenhagen cuisine has something to offer.
Copenhagen flows over with both small niche restaurants to internationally recognized Michelin-starred restaurants, including Noma, which is among the world's best restaurants. Noma has spawned plenty of new world-class restaurants in Copenhagen and has helped create the aforementioned unique explorative cusine culture in the capital of Denmark.
You may walk down a street and find Japanese, Mexican, Nordic, Italian and French cuisine side by side - in addition to innovative combinations of traditional cuisines. To help you decide where to eat and what to eat, we have selected 11 of the best restaurants to dine at in Copenhagen.
See here where you can have a table tonight with 1/3 of the price cut off
Restaurant Rebel, Copenhagen
Michelin recommendation and luxurious French notes.

The restaurant's website
Recommended in the Michelin Guide
5 stars given by Berlingske

Restaurant Rebel is located in Central Copenhagen in one of the capital's oldest half-timbered buildings, which makes the atmosphere in the restaurant intimate and informal - although Restaurant Rebel is widely described as one of the best restaurants in Copenhagen, serving Michelin Bib Gourmand recommended French gastronomy.
The restaurant has received the title as Michelin Bib Gourmand and is acclaimed among Danish food critics. It is without doubt one of the best restaurants to visit in Copenhagen if you want to experience the combination of local, casual Copenhagen culture and high-end gourmet dining.
GET 1/3 OFF THE PRICE ON REBEL
Restaurant Mes, Copenhagen
Michelin-recommended New Nordic gourmet by former chef at Noma & Geranium.

The restaurant's website
Recommended in the Michelin Guide
5 stars given by Berlingske

Chef and restaurant owner Mads Rye Magnusson - who has a long résumé with experience from other renowned restauraters - offers you 'affordable luxury' at Restaurant Mes.
'Mes' means 'mine' in French, which is reflected in the restaurant as both interior decoration and the modern, Nordic gourmet cooking style is characterized by Magnusson's personal touch.
Restaurant Mes has received great reviews and is recommended in the Michelin Guide, and is one of the best restaurants to visit in Copenhagen.
GET 1/3 OFF THE PRICE ON MES
Restaurant Meille, Copenhagen
Affordable luxury at Michelin recommended restaurant Meille.

The restaurant's website
Recommended in the Michelin Guide
5 stars given by AOK

Restaurant Meille is a baby sister to Michelin-recommended Restaurant Mes. The idea is - similar to Restaurant Mes - 'affordable luxury': the combination of gourmet dining and a casual dining atmosphere - besides a focus on sustainable, locally produced, high-quality ingredients. Like its 'big brother', Meille is one of the best and is recommended in the Michelin Guide.
GET 1/3 OFF THE PRICE ON MEILLE
Restaurant Norrlyst, Copenhagen
Previous chef at Michelin restaurant Kadeau offers a Nordic and sustainable menu.

The restaurant's website

Welcome to the restaurant Norrlyst, which, as the name implies, offers Nordic tastes and food traditions, both with light and larger dishes on the menu. It is in Norrlyst's spirit to provide customers with a memorable restaurant experience full of flavor explosions, in an evocative and aesthetic setting. You are greeted by big smiles and a professional staff who take care of its guests.
GET 1/3 OFF THE PRICE ON NORRLYST
Restaurant The Modern, Copenhagen
4 stars for an exquisite International cuisine with Nordic elegance.

The restaurant's website
4 stars given by Berlingske

The Modern's kitchen style is based on European inspiration and embraces French, Italian and Spanish cuisine - the best combination - a flavor bomb. However, the dishes are always adorned with Nordic elegance. Great color plays, detail-oriented servings and thorough craftsmanship are characteristics of The Modern. The restaurant has a comfortable, yet stylish atmosphere and it's only a stone's throw from the Theater and the maritime Ofelia Square.
GET 1/3 OFF THE PRICE ON THE MODERN
Restuarant Grønnegade, Copenhagen
Modern French-Danish gastronomy in a historic building.

The restaurant's website
4 stars given by Berlingske

As an incarnate part of Copenhagen, Restaurant Grønnegade has existed in the heart of Copenhagen (at the road named 'Grønnegade') for over 40 years with the same owner for the past 21 years.
The menu card offers Danish-French acclaimed dishes, which are always based on the season's freshest, best ingredients of the highest quality. The restaurant is located in an old timbered building, which makes the atmosphere intimate.
GET 1/3 OFF THE PRICE ON GRØNNEGADE
Restaurant Nyhavn 17, Copenhagen
Classic brasserie experience in one of Copenhagen's most iconic locations.

The restaurant's website

Since 1936, restaurant Nyhavn 17 has served French brasserie dishes with a maritime view to one of Copenhagen's main attractions: Nyhavn. The restaurant is located in one of Copenhagen's oldest buildings from the 18th century, when Nyhavn was excavated by Swedish slaves from the war.
GET 1/3 OFF THE PRICE ON NYHAVN 17
Gastronomic Copenhagen
The Danish capital - Copenhagen - is the center for some of the most exquisite and best dining experiences in Europe. Copenhagen has for several years been internationally described as one of the world's best cities to live in, and has been referred to as one of the most exciting cities to visit for gastronomic purposes.
Michelin restaurants such as Kadeau, Geranium and Noma - four-time World's Best Restaurant - has helped claim Denmark's spot on the world map and has fostered a distinctive and unique culinary culture in Denmark, including local food markets, Scandinavia's largest twice-annual culinary festival - Copenhagen Cooking -, and several new restaurants by other top chefs inspired by the Noma kitchen style, many of whom actually spent time in Noma's kitchen at one point or another.
This Danish culinary culture is partly due to the development of New Nordic Cuisine in Copenhagen. Throughout the last couple of decades, New Nordic Cuisine has manifested itself in the Nordic dining culture. The idea beind New Nordic Cuisine is to go back to the roots of Danish cooking and to create new traditions about Nordic cuisine - both at restaurants and in the Danish homes - by promoting a focus on local, natural and seasonal ingredients, besides ecology, sustainability, good taste and simplicity. As a result, you find a big variation of New Nordic Gourmet in Copenhagen today, where it is common to experiement by combining traditional ingredients in new and exciting ways.
This is also where the 'New' part in New Nordic Cuisine comes in: the technical, creative and modern way of cooking and serving food has its origins in Copenhagen and has inspired chefs worldwide. In 2005 the Nordic Council of Ministers even initiated the New Nordic Food manifesto as a way of boosting the production and consumption of traditional food products in Denmark. In other words, New Nordic Cuisine has had extensive significance at all levels in the Danish - and international - society. Thus, any gourmand worth their salt have - or should have - visited Copenhagen at some point or another for a food-fancying holiday.
Visit Copenhagen for unique gastronomic experiences in a historically beautiful and intimate city where the term 'hygge' is an integral part of the culture.

Find inspiration to your next dining experience through our guides down below. You will find a good selection of restaurants in both Copenhagen and Aarhus with different cuisines and price ranges.
The best restaurants in Aarhus
Italian restaurants in Copenhagen