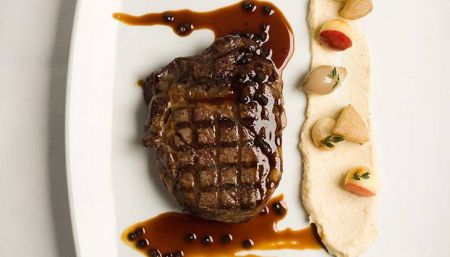 Fuego
Authentic and beautiful Argentinian steakhouse by the Royal Theater.
Fuego
Indre By
Authentic and beautiful Argentinian steakhouse by the Royal Theater.
Why you should dine here:
You love a juicy steak
Travellers' Choice 2021 on Tripadvisor
Take a trip to Argentina
Argentine steak cave
Fuego is a modern Argentinian restaurant, located behind the Royal Theater on Holbergsgade in the Inner City. The owners of the restaurant are from Mexico and Patagonia in southern Argentina and are passionate about the Argentine food culture.
Here in the kitchen, the Argentinian flavors merge with the refined notes of the classic Mediterranean countries, and the menu offers fresh vegetables, top-quality meat, Aberdeen Black Angus, and traditional tapas specialties. In addition, the wine cellar abounds with interesting and full-bodied, Argentine wines.

Tasteful menu that satisfies
Fuego is ranked as the 4th best reviewed steakhouse in Copenhagen on Tripadvisor, and will be i.a. reviewed with the words:
"We got 3 different of Fuego's steaks, all were top notch."
"… The meat melted on the tongue and the accompaniment was something so delicious."

Fire and flame from the grill
The restaurant is minimally decorated with large panoramic windows and a large open fireplace. Fuego means fire, and in the kitchen the temperature and the flames from the grill are turned up.
The kitchen has taken the homeland, Argentina's tradition of cooking beef cattle with it to Copenhagen, and the grill master looks after, turns and turns the whole fried animals and large, juicy steaks.