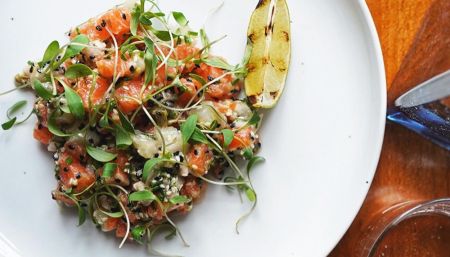 Huks Fluks
Southern European notes and informal cosiness go hand in hand on Gråbrødretorv.
Huks Fluks
Indre By
Southern European notes and informal cosiness go hand in hand on Gråbrødretorv.
Why you should dine here:
If you love Mediterranean delicacies
Southern bistro atmosphere and informal cosiness
Fireplace
Combine the house specialty with aromatic grapes
Huks Fluks is known as the wine bar with a good and versatile wine list and is driven by the passion for good wines that are enjoyed in good company.
Both bottled and glass wines are sold here - a good opportunity to taste several different grapes, which the waiter likes to match according to your taste and wallet.
The drops should be accompanied by the delicacies of the menu. The portions are share-friendly, and you will find both meat, fish and the house's specialty, iberco black-footed ham, which has been matured for at least 24 months, on the menu.
The guests say
On Facebook, Huks Fluks gets 4.5 stars out of 5 possible stars and good guest reviews:
"Cozy place with a great staff and menu"
"Fast and sweet operation - super aïoli"
"Fantastic wine list with exciting wines by the glass"
"Super cozy place with a good atmosphere ... nice service en. A great taste experience ... we will be back!"
Bistro style and southern European stimulus
Whether you are a wine connoisseur or just interested in a small cozy glass makes no difference. Huks Fluks welcomes everyone to informal cosiness in the restaurant's authentic setting.
Enjoy the grapes outside on Gråbrødretorv or pull inside, where the fireplace is lit during the cold months. The decor is kept in a warm southern style with rustic and golden ocher-colored walls, for which warm materials fill the interior.