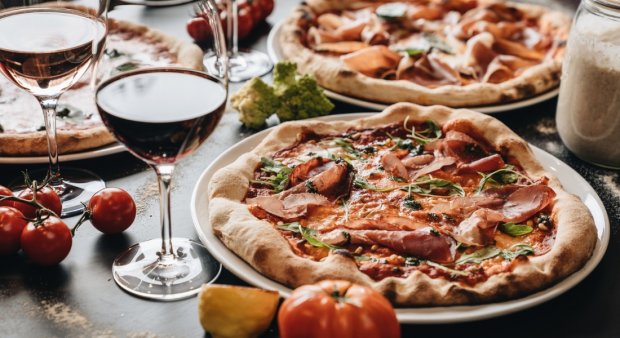 Guide 2023: Popular Italian restaurants in Copenhagen with 1/3 sliced of the price
Updated 13.09.2023
Find hand-picked, authentic Italian restaurants with the Early Bird restaurant service and get 1/3 cut of the price.
La bella vita - the good life. The road to it begins with the food, and to delight the stomach. With respect for the ingredients, a sense of taste and their traditional diversity from Lombardy in the north to Sicily in the south, the Italians have created a rich food culture with real enjoyment.

There is hardly a gastronomic universe that is more diverse and rich in tradition than the Italian. Each of Italy's 20 regions tells its own food traditions and stories about wines and Italian cultural life - but common to all is; the love of the local ingredients and mama's cooking.

Dream of the hills and Brunello of Tuscany or fall in love with Sardinia's superb seafood dishes. Fall in love with Lombardy's iconic risottos or fall in love with crisp Neapolitan pizzas in Campania.

You will also find a selection of quality Italian restaurants at Early Bird. We have gathered a varied handful of the best and most popular Italian restaurants, where with Early Bird you get cut 1/3 of the price.
See here which Italian restaurants you can eat at tonight with 1/3 cut of the price!
Plin, Italian chef serves modern, italian dishes in Copenhagen
Experienced Michelin chef - former chef at Tokuyoshi in Milan, Marv & Ben and Restaurant Mes
The restaurants' website

The creative kitchen skills amazes when the experienced chef, Luca Zelante, is in charge of the menu. The Italian has previously worked at Marv og Ben, Salt, Aamanns 1921 and the 1-star Michelin restaurant, Tokuyoshi in Milan as well as restaurant Mes.

If you're fond of the Italian cuisine, then you will fall in love with Plin's newly interpreted tastes versions of the Italian food culture and the authentic notes.

GET 1/3 CUT OF THE PRICE AT PLIN WITH EARLY BIRD


Accanto, classic Italian restaurant in Copenhagen
Modern hot spot, chic setting and classic Italian cuisine with a twist
The restaurants' website

The owners behind also manage Pintxos, La Rocca and Tramonto continue the success of the city's new hotspot, Accanto.
Spread over 2 floors, cosiness, life and the good restaurant experience are planned. The decor is classic-chic with warm shades. There are light and airy, old wine barrels, upholstered, soft chairs, chandeliers and even look at the chef standing out in the kitchen rolling, homemade pasta and firing up under the pizza stone oven.

GET 1/3 CUT OF THE PRICE AT ACCANTO WITH EARLY BIRD


Little Brother, authentic Italian restaurant in Copenhagen K
Have a Neapolitan dining experience with freshly baked stone oven pizzas
The restaurants' website

The Italian family give you an authentic Naples experience with round and crispy delicacies. The menu has fullness and exquisite Italian specialties such as creamy burrata, sweet tomatoes, bresaola and fresh basil.

There are ecology, love and traditional recipes behind this Italian cuisine and lots of homemade favorites.

GET 1/3 CUT OF THE PRICE AT LITTLE BROTHER WITH EARLY BIRD


Restaurant Pizzeria MaMeMi, Copenhagen W
Pizzeria honored in the Italian food magazine, Gambero Rosso.

The restaurant's website

Italian cuisine is a high priority in Danish homes and the opportunity to get a bite of the boot country's delicacies is innumerable in the Danish capital. Fancy a gourmet-class pizza? Maybe eating at a pizza place that even the Italians speed up?

Pizzeria MaMeMi carries an organic menu and is honored in the Italian food bible, Gambero Rosso. The highly acclaimed Italian food magazine, Gambero Rosso, has made its way past Copenhagen to map the city's best Italian restaurants. On the magazine's top list for 2020, you will find Pizzeria MaMeMi, to which it is quoted: "It is a pleasure to come here and enjoy the pizzas created by a team of young people from Rome."
GET 1/3 CUT OF THE PRICE AT PIZZERIA MAMEMI WITH EARLY BIRD
Restaurant Trattoria Sud, Copenhagen Central
Authentic Neapolitan cuisine in the heart of Copenhagen by Torvehallerne.

The restaurant's website

Two southern Italian brothers have brought a bite of southern Italy to the heart of the Inner City. The restaurant focuses on quality wines and seasonal ingredients. The menu changes regularly and the atmosphere and decor are authentic and rustic.

Trattoria Sud is located in the butter hole between Torvehallerne and Dronning Louise's bridge - so you can enjoy a creamy, hot pasta or varied tapas palette while watching Copenhagen's vibrant life.
GET 1/3 CUT OF THE PRICE AT TRATTORIA SUD WITH EARLY BIRD
Restaurant L'imperatore, Copenhagen E
Italian specialities from Sicilian-born head chef Armando. 4 stars in AOK.

The restaurant's website
4 stars given by AOK

There is an Italian atmosphere at L'imperatore in Østerbro, where Sicilian Armando Di Raffaele is behind the stove. Armando has cooking experience from restaurants in Italy, and in addition he runs his own import company, which brings home delicious specialties from the boot country and delivers to many of the city's best Italian restaurants.

L'imperatore means emperor in Italian, and the solemn name they apparently live up to, as Berlingske's reviewer declares them "The Emperor of Olufsvej" and acknowledges with 4 stars.
GET 1/3 CUT OF THE PRICE AT L'IMPERATORE'S WITH EARLY BIRD
Restaurant Famosi E Golosi, Frederiksberg
Authentic Italian with 4 stars in AOK and Politiken.

The restaurant's website
4 stars given by Berlingske

Famosi e Golosi is a real Italian food gem serving homemade Italian specialties. Behind the pots stands Walter Garau, who was himself born in Sardinia. The kitchen is mostly inclined to the northern Italian with e.g. Osso Buco and Vitello Tonnato on the menu, but with Walter Garau's Sardinian roots, you can not miss the culinary influence of the Mediterranean island.

The charming Italian at Frederiksberg scores 4 stars in both AOK and Politiken, who call the dining experience "solidly good Italian". Visit Famosi e Golosi and enjoy an evening of popular Italian charm and tasty signature dishes.
GET 1/3 CUT OF THE PRICE AT FAMOSI E GOLOSI'S WITH EARLY BIRD
Restaurant San Giorgio, Copenhagen Central
Critically acclaimed authentic Italian brilliance.

The restaurant's website

At San Giorgio, classic Sardinian cuisine dominates, but here there is still room for specialties from other parts of Italy. The kitchen style is innovative and simple with respect for Italy's ingredients and traditions.

The restaurant is run by Italian Achille Melis, who has received honors from the Italian Association of Restaurants, Associazione Ciao Italia.
GET 1/3 CUT OF THE PRICE AT SAN GIORGIO'S WITH EARLY BIRD


Restaurant Fabio, Frederiksberg
Enjoy Fabio's authentic Italian cuisine.

The restaurant's website

At Falkoner Allé in Frederiksberg, the couple Fabio Avenoso and Christine Aagaard have realized their common dream and opened an Italian restaurant. Fabio has found inspiration through his Italian roots, and the kitchen offers a personal "Cucina Casareccia" (country kitchen) inspired by Fabio's female role models - mother and grandmother.

The kitchen creates tasty, simple and traditional Italian dishes in an authentic "La Dolce Vita" -inspired setting and romantic atmosphere. You can enjoy the Danish warm summer evenings in Restaurant Fabio's fine courtyard decorated with Tuscan undertones.
GET 1/3 CUT OF THE PRICE AT FABIO'S WITH EARLY BIRD
Italian Restaurants
Italian restaurants have been found on the Danish food scene as far back as we can remember. The Danes' love of the creamy pasta dishes and crispy pizzas is unmistakable. Copenhageners' enthusiasm for Italian cuisine is also reflected in the number of Italian restaurants popping up in the capital's urban landscape. There are in fact a record number of Italian restaurants that have opened in the last few years.

And there are indications that we have some talented Italian restaurants here in Copenhagen. In 2017, the former Michelin-starred restaurant Era Ora was named the world's best Italian restaurant outside Italy. In addition, Politiken reviewer Sandra Brovall states »Many of the new places have lost respect for mama's recipes and are not afraid to experiment and mix other cuisines. Today you can eat better Italian food in Copenhagen than you can in Rome. "

So there is no excuse for not enjoying an authentic Italian - perhaps with an international kick and creative reinterpretation - dinner at one of Copenhagen's many competent Italian restaurants, when you even get 1/3 cut of the price through Early Bird!

Find inspiration to your next dining experience through our guides down below. You will find a good selection of restaurants in both Copenhagen and Aarhus with different cuisines and price ranges.
Popular restaurants in Copenhagen
The best restaurants in Aarhus