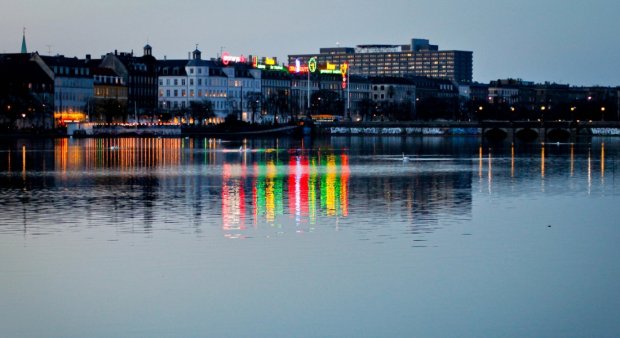 Guide 2023: 4 popular restaurants at Nørrebro with 1/3 cut of the price
Updated 13.09.2023
Find hand-picked restaurants at Nørrebro with the restaurant service EarlyBird.dk and get 1/3 cut of the price.
From previously being a working-class neighborhood, Nørrebro is now one of Copenhagen's most 'hip' districts. Streets and buildings have retained their charm from ancient times, but now house everything from tribal houses and kebabs to trendy clothing stores and modern restaurants.

You will find even more Michelin restaurants in Nørrebro, namely restaurant Kiin Kiin on Guldbergsgade and Restaurant Relæ on Jægersborggade.

If it is cloudy, the Copenhageners move inside at one of the many exciting bars, cafes and restaurants in Nørrebro, especially around Sankt Hans Torv. But you will also find many Nørrebro restaurants on and around Nørrebrogade, Elmegade and Jægersborggade. In addition to visiting a good restaurant in Nørrebro, it is obvious to take a trip to the local Empire Bio, which is one of the city's nicest cinemas.
See here which restaurants in Nørrebro have available tables tonight, with 1/3 cut of the price!
You will also find a selection of quality restaurants in Nørrebro at Early Bird. We have gathered a varied handful of the best and most popular restaurants in Nørrebro, where you get cut 1/3 of the price with Early Bird.
Restaurant Tribeca - Beer & Pizza Lab, Nørrebro
Industrial building offers Italian good taste and New Yorker vibe.
In an old industrial building from the 30s in Nørrebro is a rough diamond, Tribeca - Beer & Pizza Lab. The premises have a modern vibe with a more spartan, raw and unpretentious New Yorker look with lots of glass, metal and brick. The menu offers pizza - tasty, crispy and smoky hot.

At Tribeca you will not find the normal table service. The restaurant strives for self-service, where guests are contacted at the bar.
GET 1/3 CUT OF THE PRICE OF TRIBECA - BEER & PIZZA LAB WITH EARLY BIRD
Restaurant Kung Fu II, Nørrebro
Japanese taste hits in best Izakaya style.
Ravnsborggade is perhaps the most vibrant street with the most good restaurants in Nørrebro, which also has a Japanese fusion cuisine. Restaurant Kung Fu is what they call a Japanese gastropub - Izakaya - where the locals (Nørrebro people) can settle down and enjoy a complete umami dining experience.

Sit at a table in an informal setting and be pampered with stripes of exciting, small, Japanese tapas dishes and discover that Japanese cuisine is much more than just sushi.
GET 1/3 CUT OF THE PRICE OF KUNG FU II WITH EARLY BIRD
Restaurant Vintro, Nørrebro
Vintro is true to the natural grape and the authentic wine experience.
At Vintro on Ravnsborggade, you know your grapes in everything from taste, color and aroma to the story behind the grape's journey from fruit to bottle. Vintro does away with the 8 dominant grape varieties and instead promotes the remaining 1,400 grape varieties, which offer a diversity of fun and unknown taste experiences.

Here you are true to the natural wine, the authentic taste experience and forgotten grapes or local wine traditions, which also deserve your attention.
GET 1/3 CUT OF THE PRICE OF VINTRO WITH EARLY BIRD
Restaurant Cock's n Cows, Nørrebro
The perfect burger spot that serves unique, juicy burgers and great cocktails.
You may already know the popular burger restaurant, which has garnered not just one or two, but a full 4 x AOK recommendations: The City's Best Burger. If the name Cock's n Cows does not ring a bell, then you are 'in for a treat'.

The burger bun is warm and lightly toasted, the guacamole creamy and fresh, the steak juicy and from 100% free-range cattle. In addition, refreshing, cool drinks, as well as sweet and crispy desserts. With an address on the (equally) popular restaurant street in Nørrebro: Ravnsborggade, it is obvious to take a walk in various galleries, antique and clothing stores, and then end up with the icing on the cake of self-indulgence at Restaurant Cock's n Cows.
GET 1/3 CUT OF THE PRICE OF COCK'S N COWS WITH EARLY BIRD
Nørrebro's charm
Nørrebro stretches up and tangents with the Northwest, all the way down to the pulsating, attractive life by the Lakes. Every time the sun peeks out from behind the clouds, the Copenhageners clump together on one long side of the Queen Louise Bridge - the link between Indre By and Nørrebro or take a walk in Assistens Cemetery - one of Nørrebro's green breathing holes, where famous thinkers such as HC Andersen and Søren Kirkegaard is buried. Nørrebro is thus a gathering place for both young people and families with children.

Although the influx of new (especially young) blood has changed the street scene over the past few years, Nørrebro has certainly not lost its colorful, multicultural edge. The diverse vibe helps to make Nørrebro one of Copenhagen's hottest districts. And the diversity of the population is also reflected in the restaurant range. Nørrebro, for example, is the epicenter of exotic dining, including the acclaimed shawama. Every year, AOK chooses the winner of Nørrebro's best shawarma, so that the hungry residents of Nørrebro know where to go when hangovers scream for provisions. Another fast food classic - the pizza - has been made an absolutely classy experience at the authentic Italian restaurant, Bæst, with the heads behind Relæ as owners.

You will also find everything from cozy bars to fancy drinks and innovative flavor combinations to small bodegas that pour a beer with manners. It is not only the locals who like to go out into the city life in Nørrebro, also people from other parts of the city gather to experience the atmospheric, local Nørrebro and its charm.

From fast food to fine dining, from Nordic to Asian - in Nørrebro you will find something for everyone. Then go exploring in Nørrebro's exciting menu - even with 1/3 cut of the price when you order via Early Bird.

If you are looking for restaurants in a specific district in Copenhagen, you can find inspiration through our guides here: