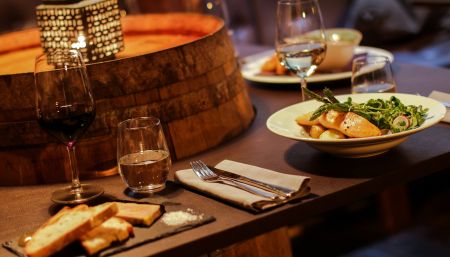 Restaurant Tight
Cozy, romantic settings and tasty menu with Southern flavors.
Restaurant Tight
Indre By
Cozy, romantic settings and tasty menu with Southern flavors.
Why you should dine here:
You love well grilled meat
The dining experience that combines north and south
Cozy, romantic setting
Travellers' Choice 2021 on Tripadvisor
Culinary taste constellations
There is a smell of barbecue and distant, warm skies when you step inside at restaurant Tight. The kitchen offers culinary delights, modern seafood dishes and barbecue classics such as the good, juicy steak, spare ribs and burgers.
Quality that is contagious in guest reviews
Tight is definitely highlighted as a visitable restaurant inside TripAdvisor. In addition to a popular menu, several guests also welcome the relaxed atmosphere and the welcoming, personal service.
"We have visited Tight several times and it is always a really good experience."
"The food is delicious, tasty and varied. The selection of wines calls for revisits."
"Cozy, good dining experience and very friendly and service-minded staff."
"Cozy atmosphere that brings to mind the village inn."
"Good virtues and delicious food."

Atmospheric settings
Brick walls, load-bearing beams, authentic lighting, cozy nooks and vibrating atmosphere are common to the restaurant's 4 floors, which are accessed by steep stairs.
Tight invites to cozy, romantic dinners and with expert guidance from the staff, you will get details about the menu and have drinks match your dishes.