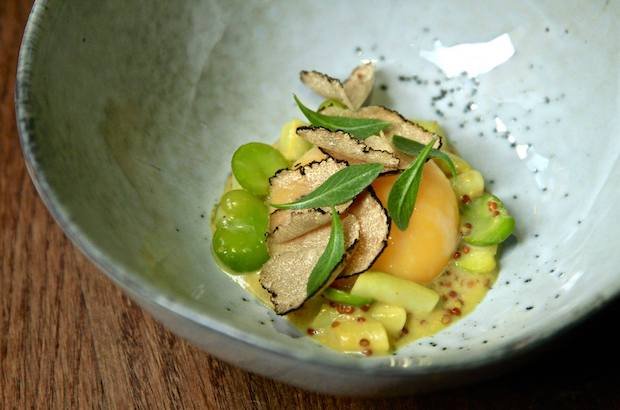 Guide 2023: The best cheap eats in Copenhagen with 1/3 cut of the price
Updated 13.09.2023
It does not have to be expensive to eat well. In this guide, we have hand-picked a selection of cheap restaurants in Copenhagen, all of which offer good dining experiences, and with earlybird.dk you get 1/3 cut of the price.
Although the capital is expensive to be in a large number of cheap restaurants in Copenhagen have popped up in the last few years. They are all characterized by serving cheap food - but without compromising on the quality of ingredients and the good craftsmanship in the kitchen. This applies to everything from brunch to dinner.

The cheap restaurants in Copenhagen can - despite a lower price level - keep up with the more expensive competitors. Even though not all of them apear in the Michelin Guide they still serve exquisite dishes that for too little money make you full and happy. The atmosphere in the restaurants is more often cozier, more intimate and more unpretentious than the more expensive competitors.
10 cheap restaurants in Copenhagen you have to visit
In this guide we have made the work easy for you and collected 10 offers for restaurants in Copenhagen, where you can be served delicious dishes at budget-friendly prices.

You will also find a selection of cheap quality restaurants at Early Bird. We have collected a handful of some of the best and most popular, cheap restaurants in Copenhagen, where you get cut 1/3 of the price with Early Bird.
Look here and find out which restaurantes in Copenhagen you can dine at tonight with 1/3 cut of the price!
Restaurant Kung Fu II, Copenhagen N
Modern and Japanese flavors - authentic Izakaya gastro experience
Visit the restaurants website

With this popular kung fu fighter you'll experience the Japanese gastropub phenomenon: Izakaya.
Izakaya refers to the old Japanese bodegas where locals enjoyed beer and sake after work while having a bite to eat with friends.
At an Izakaya inspired restaurnt it is therefore common to share the dishes. Stop by Kung Fu II and enjoy Japanese gasto delights with greens and meat in a cozy, casual setting.

GET 1/3 CUT OF THE PRICE AT KUNG FU II BY EARLY BIRD
Restaurant Midori, København K
Midori makes Copenhagen greener in Grønnegade with Japanese tapas
Midori means green in Japanese. And on Grønnegade in Copenhagen is also the restaurant Midori, which through Japanese cuisine brings more green to the city. Plants stretch from floor to ceiling and the menu pays homage to the green kitchen - although it is also possible to have meat on the plate - with izakaya: Japanese tapas.

Although the name of the tapas dishes sounds fancy and expensive, the prices of the Japanese specialties are affordable. Midori is therefore a really good offer for a cheap place to eat in Copenhagen.

GET 1/3 CUT OF THE PRICE AT MIDORI BY EARLY BIRD
Restaurant Fabio, Frederiksberg
Taste Fabio's authentic Italian country cuisine
On Falkoner Allé is Fabio, which cooks cheap but simple, traditional and tasty Italian dishes. The decor is characterized by romantic style a la La Dolce Vita. To accompany the Italian classics, Fabio has a well-stocked wine list characterized by quality wines from Italy's best wine districts.

GET 1/3 CUT OF THE PRICE AT FABIO BY EARLY BIRD
Restaurant Vesterbro Vinstue, København V
Vesterbro Vinstue - a vinous breathing space on Istedgade
A cozy wine lounge in Vesterbro serves well-cooked but cheap food inspired by Mediterranean cuisine with a touch of the Nordic food tradition. As the name suggests, Vesterbro Vinstue also offers golden drops, which are mainly own imports. The atmosphere is relaxed and there are no dogmas or fine sensations in the vinous breathing space on Istedgade, Copenhagen.
GET 1/3 CUT OF THE PRICE AT VESTERBRO VINSTUE BY EARLY BIRD
Restaurant Mangal, København V
Turkish gastronomy in a Nordic setting with classic recipes and modern twists in the Meat Packing District
At Restaurant Mangal they have one goal: to redefine the understanding of Turkish cuisine in Copenhagen. They will do so by changing the way and concept of how to eat Turkish food. "Mangal" means "to grill", and most of the dishes are grilled for authentic tastes and to evoke associations with a traditional Turkish dining experience.
GET 1/3 CUT OF THE PRICE AT MANGAL BY EARLY BIRD


Restaurant Pizzeria MaMeMi, København V
Pizzeria with organic menu honored in the Italian food bible, Gambero Rosso
Pizzeria MaMeMi is a great place to look if you are looking for cheap eateries in Copenhagen where the quality is more than okay. MaMeMi runs an organic menu and the restaurant has even been honored in the Italian food bible, Gambero Rosso, which is a renowned Italian food magazine.

Gambero Rosso made his way past Copenhagen to map the city's best Italian restaurants. On the magazine's top list for 2020, you will find Pizzeria MaMeMi, to which it is quoted: "It is a pleasure to come here and enjoy the pizzas created by a team of young people from Rome."

GET 1/3 CUT OF THE PRICE AT PIZZERIA MAMEMI BY EARLY BIRD
Restaurant Tribeca, København NV
Industrial building offers Italian good taste and New Yorker vibe
In an old industrial building from the 30s is a rough diamond called Tribeca - Beer & Pizza Lab. The premises have a modern vibe with a more spartan, raw and unpretentious New Yorker look with lots of glass, metal and brick. The menu offers cheap food that makes your teeth run in water: tasty, crispy and smoky hot pizzas.

At Tribeca you will not find the normal table service. The restaurant strives for self-service, where guests are contacted at the bar.
GET 1/3 CUT OF THE PRICE AT TRIBECA BY EARLY BIRD
Karma Sushi, København Ø
Fusion sushi in the gourmet class at Østerbro
Visit Karma Sushi at the Triangle and taste fusion gourmet sushi in the gourmet class. The quality of the food is also reflected in Karma Sushi's mission to challenge the pile of 'mainstream' sushi that occupies the big cities.

In the kitchen, the chefs experiment at a high level with alternative and innovative taste experiences and varying textures. For example, put your teeth in fresh king crab, blood red tuna and silky scallops combined with luxurious ingredients such as oysters and foie gras. Despite the high level, Karma Sushi is one of the cheaper restaurants in Copenhagen.
GET 1/3 CUT OF THE PRICE AT KARMA SUSHI BY EARLY BIRD
Restaurant Bøf & Ost, København K
Classic French brasserie dishes at Bøf & Ost on Gråbrødretorv
Located on Gråbrødretorv in Copenhagen, worthy of preservation since 1972, the restaurant Bøf & Ost has brought good but cheap food in the form of a classic, French brasserie to Copenhagen. At Bøf & Ost, cheeses and wines are specially imported. The interior is also carefully planned by the renowned architect Peter Simonsen.
GET 1/3 CUT OF THE PRICE AT BØF & OST BY EARLY BIRD
Restaurant Bindia, København Ø
Well-cooked and tasty Indian dishes with 30-60% organic
At restaurant Bindia in Østerbro in Copenhagen, you can experience an authentic - but cheap - bite of Indian cuisine. The name itself refers to the small traditional dot on the forehead of Indian women: a symbol of love. At Bindia, it becomes a symbol of the love of good cooking, where the ingredients are predominantly organic, but prices do not rise for that reason.
GET 1/3 CUT OF THE PRICE AT BINDIA BY EARLY BIRD
Budget-friendly and cheap restaurants in Copenhagen
As Early Bird only collaborates with some of the best restaurants and eateries in Copenhagen, you are guaranteed a high-quality dining experience in all the world's different cuisines - in other words: Gourmet on a budget.

Follow the trend among Danes - especially the Copenhageners - and dine out more often and challenge your taste buds in addition to the usual five dishes you can manage to whip together after work. Should you want to eat sushi from the Japanese cuisine, spicy tacos from the Mexican cuisine, a juicy burger from the American cuisine, authentic open sandwiches from the Nordic cuisine or coq au vin from the French cuisine - Early Bird has a restaurant to suit to your liking and wallet.

Although most Danes want a healthier lifestyle, it is said that a varied diet is healthy, so you can easily dive into the versatile world of gastronomy with a clear conscience - Early Bird makes it easier to dine out more often for cheaper money. No matter where you are in Copenhagen - whether you are at Kongens Nytorv in Centrum, near the Meat Packing District or by the lakes in Nørrebro - you will find a cheap restaurants in at Early Bird.
Eating places in all parts of Copenhagen
There are appetizing eateries spread all over Copenhagen. Whether you are in Østerbro, Vesterbro, Nørrebro, Frederiksberg, Amager or centrum there is always a good place to eat nearby. You can be sure that Copenhagen fulfills your culinary desire, whether you fancy sushi, tapas, new Nordic, traditional French, Italian food or even takeaway - for gourmet or cheap dining experiences. So why not explore Copenhagen's versatile dining universe - and do it with 1/3 cut of the price? Find inspiration through our guides here:
9 popular restaurants in Copenhagen

10 popular Italian restaurants in Copenhagen