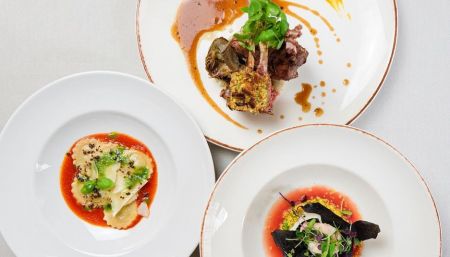 La Rocca
Authentic, Italian cuisine in elegant and atmospheric environments.
La Rocca
Indre By
Authentic, Italian cuisine in elegant and atmospheric environments.
Why you should dine here:
Authentic flavors from Italy
Travellers' Choice 2020 on TripAdvisor
Refined, hand-picked wine profile
Authentic atmosphere with kitchen view
Have a tasty bit of Italy at Nansensgade. Enjoy solid the Italian kitchen and La Rocca's atmospheric setting. The restaurant has been decorated simply but luxuriously with beautiful chandeliers and decor in warm shades, soft materials and with a beautiful table setting, walk-in wine cabinet and view of the kitchen's Pastaria.
The Italian excels
For many years, La Rocca has garnered rave reviews from its guests, which is welcomed with a certificate of excellence from TripAdvisor and an overall rating of 4.6 out of 5 on Facebook.
"... despite the bustle we experienced incredibly polite and present service. The menu was also super delicious, and the wine list really good"
"Super nice food and beautiful surroundings"
"... cozy place and certainly charming that the waiters spoke Italian to each other"
"Always a canon experience, has never been disappointed"
Italian at your fingertips
The kitchen offers authentic Italian specialties, carefully prepared by Italian chefs and served by Italian-speaking waiters.
Let the dishes be accompanied by a wide selection of Italian wines, lovingly hand-picked from the best country winemakers.