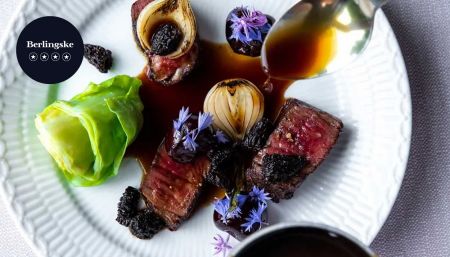 Brede Spisehus
Informal, fine-dining pearl for 4 stars and hearts at Brede Dam.
Brede Spisehus
Nordsjælland
Informal, fine-dining pearl for 4 stars and hearts at Brede Dam.
Why you should dine here:
Reviewed for both 4 stars and hearts
Original and beautiful settings in the middle of nature
Gourmet and idyll by Brede Dam
Brede Spisehus is idyllically located by Brede Dam just north of Lyngby.
The more than 100-year-old dining place functioned as a canteen for Brede Værk's workers who ate lunch in the beautiful premises.
Today the building is listed and the fantastic dining room stands as it did then with beautiful tiles, beautiful plank floors and a wonderful view.
The kitchen, on the other hand, has been upgraded and serves modern dishes from the sea, stables and fields prepared with French techniques and with great taste.
Here you can choose from the delights of the ala carte menu or have an evening at Brede with discounts on the menu's many tempting offers. The restaurant is open both for lunch and dinner.
Eat e.g. salmon with 'fox' sauce and horseradish snow, Norwegian scallops, chicken from Rokkedal, duck gizzards or wild boar terrine.
The restaurant's wine cellar also offers many good and special bottles, which are also available by the glass.
Red hearts and 4 stars
Over the years, Brede Spisehus has attracted food critics. Most recently, both Børsen, Politiken and Søren Frank from Berlingske reviewed the gastro experience:
"... a good and particularly seasonal menu based on fine ingredients."
The restaurant gets both 4 stars and hearts with the support of several great guest reviews:
"The dining was nothing short of excellent and not least the hospitality was top notch."
"Nice place, cool view."
"Delicious food and wine. The service was really good."