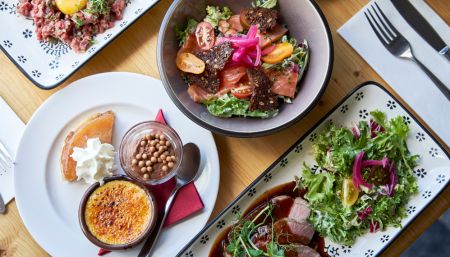 Bistro Cocorico
Charming bistro with French flavor and coziness.
Bistro Cocorico
Østerbro
Charming bistro with French flavor and coziness.
Why you should dine here:
Delights the francophile guest
Parisian bistro charm
Owner behind popular sister restaurant
Østerbro's new French chicken
Frederic, who also owns Le Coq en Pâte in Østerbro, has partnered with Céline and combined their shared, great passion for French taste.
The result is Bistro Cocorico, a tasteful gem with a focus on quality-conscious ingredients, home-made dishes and Parisian atmosphere. Both the glass and the plate are filled with French delights imported from the south or from local producers such as. Daniel Letz.

The French cuisine melts hearts
The French cuisine is loved by many and Bistro Cocorico receives good reviews on Facebook:
"Super cozy place that takes one back to the old French country kitchen"
"Cozy little French place with delicious dishes"
"Cozy Atmosphere, friendly people and amazing food"

Bistro for the Francophile lover
Visit the charming French bistro where the atmosphere is wonderfully cozy and relaxed. It's not just the French sounds of the speaker that will take you south to a French village - the menu is packed with French classics such as steak tatare, refined dishes with meats, sauces and garnishes, soft and intense cheeses and full-round wines.
The decor is warm, Parisian-inspired with smaller café tables, brick walls and decorative boxes with herbs and wine bottles.