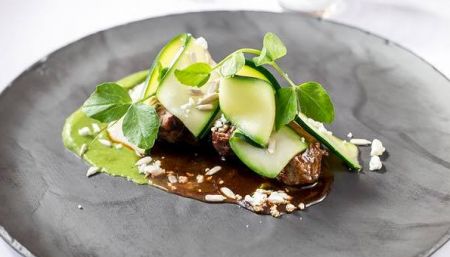 Le Basilic
Authentic French cuisine and cozy, romantic settings.
Le Basilic
Vesterbro
Authentic French cuisine and cozy, romantic settings.
Why you should dine here:
Arch-French cuisine
Perfect for a romantic evening
French elegance and atmosphere
French oasis in Vesterbro
At restaurant Le Basilic, you can be seduced by an arch-French gastro experience in a cozy and family setting.
The decor is characterized by fine and charming Parisian flea finds, brought home from the French capital, and guests can enjoy its food to the tunes of pleasant and soft jazz.
Here, not an eye is dry. The tasty food and the atmospheric atmosphere ensure an unforgettable dining experience in the best French style.

French concept
With a quality menu and wine list of a French character, Le Basilic can welcome guests' reviews on TripAdvisor:
"Very original French and the food really really good. Really a good experience"
"Super authentic French food"
"Tasty French cuisine"

French chef behind the French temptations
The French chef from Lyon, Sébastien Jacques, has a past in a number of Copenhagen's best restaurants. Now he wears the chef's hat at Le Basilic, where the menu consists exclusively of authentic French dishes with a high degree of perfectionism and elegance, as one finds it in a real French restaurant.