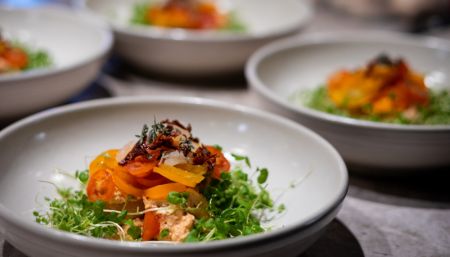 KAYs
5 hearts for Ørestaden's authentic world cuisine & stylish, architectural building framework.
KAYs
Amager
5 hearts for Ørestaden's authentic world cuisine & stylish, architectural building framework.
Why you should dine here:
5 hearts in Politiken
World cuisine with exciting blackboard dishes
Authentic and architectural settings
Combined grocery store and food bodega
World taste with 5 hearts
There are extra good tasting experiences at KAYs. 5 hearts in Politiken, the reviewer had to give the menu card and his yum-me-nam experience.
Invite good friends to exciting plate dishes with delicious ingredients found on the square and through KAY's local suppliers.
The chef appreciates everything from café and Danish classics to sharp Latin American flavors and the eminent flavors of the Mediterranean countries. KAYs is an exciting world cuisine that brings new dishes to the menu every week, preferably with lots of greens.
Eat e.g. Christmas salad with rehydrated, pickled beetroot and vinaigrette or fermented gnocchi with pumpkin and brown butter sauce. Éclairs with mushrooms, artichokes with truffle butter and gruyére or rösti à artichokes with apple beurre blanc.
Great guest reviews
It is not only food reviewers from Børsen and Politiken who praise KAYs. Book a table and see if you can't agree with KAY's guest reviews from Google:
"Ambitious place with good service, exciting selection of delicacies, delicious food and reasonable prices."
"Their wine list contains both natural and conventional wines of high quality - there is celebration and color at Kays"
"Delicious modern place with food and service in a special class!"
"The combination of café and 'grocery store' contributes to a good atmosphere."
Prominent and innovative frames
The modern and architectural district, Ørestad, is flourishing. Here, a combined grocery store and food bodega entices with delicacies, home-made food for sharing in a spacious setting.
KAYs is located in the stylish HUB1 building. An ambitious building designed by Vilhelm Lauritzen Architects. Inside, the style is authentic and inspired by the south with warm earthy colors and wooden furniture.