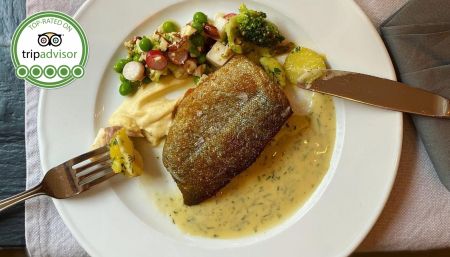 Krebsegaarden
At a beautifully restaurant the menu is inspired by art exhibitions.
Krebsegaarden
Indre By
At a beautifully restaurant the menu is inspired by art exhibitions.
Why you should dine here:
Top 3 location of the city's best rated restaurants
Art exhibitions inspire innovative gastronomy
For the art lover
Travellers' Choice 2021 on Tripadvisor
Cooking and gallery art go hand in hand
In the listed building from 1803, in the backyard is a fine gallery, Galleri-Krebsen, which not only inspires the art-interested, but also sets the food scene for restaurant Krebsegaarden.
Conceptually, the restaurant builds their gastronomic menu on Galleri-Krebsen's changing exhibitions. The menu can thus reflect the artist's nationality or the theme of the exhibition. It has i.a. brought the menu from North Africa to Torshavn and the wild Australia.
Food that pleases gives great reviews
If you are looking for Tripadvisor Høster Krebsegaarden great guest reviews:
"Fantastic place with a fantastic passion for food, which in every detail has a reason and history. Visit the gallery in the backyard before you eat, and let the calm and creativity lower you"
"A fantastic dining experience beyond the usual"
"The food is very tasty and well-balanced - the wines are exciting and in a good match"
Present atmosphere in stately setting
At Krebsegaarden, it's not just the food that matters. Book a table today and you will experience a present host with good service who likes to talk about both food and art.
Be inspired by the art on the walls, feel the warm atmosphere and have a culinary and memorable restaurant experience.