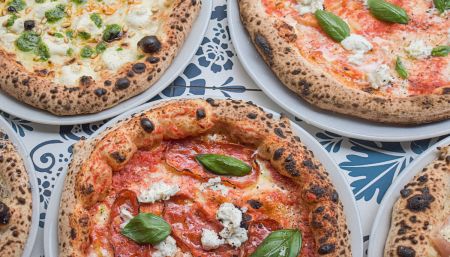 BUKA
Hot spot on Strøget serves Italian dishes and good, homemade baked goods.
BUKA
Indre By
Hot spot on Strøget serves Italian dishes and good, homemade baked goods.
Why you should dine here:
Hyped gourmet bakery goes Italian
Central location on Strøget
Homemade pizza, pasta and pastries
When it has to be informal but good
The aroma of home baking
On the corner of cozy Mikkel Bryggers Gade lies BUKA and entices with delicious baked goods in the windows.
BUKA's passion for baked goods and good craftsmanship can be seen and tasted around the city. As something new, the ovens no longer only bake croissants and sourdough bread but also crispy and freshly baked pizzas.
Italian cuisine has found its way onto BUKA's menu at Strøget. It tempts with lasagne with homemade ragù or tasty, Napolitan pizzas.
Eatery for the small and big hungry
BUKA is the place where you can quickly get energy after a shopping trip, hold an informal meeting or gather family or friends in informal café settings. Enjoy a glass of wine or a crisp beer with today's light meal.
For the new dining concept, the pizzas get, among other things, praise along the way on TripAdvisor: "Both pizzas tasted fantastic. Definitely a recommendation from here. Relaxed mood."
Bright, open café frames
From the marble-decorated bar, you can follow the chef's work in the open kitchen. Sit at the high table on bar stools or lean back in the café chair at the colorful café table which has room for a few shareable dishes.
The atmosphere is vibrant with life both inside and outside the large windows. The place has an informal warmth with beautiful floor tiles and a classic cafe-inspired decor.