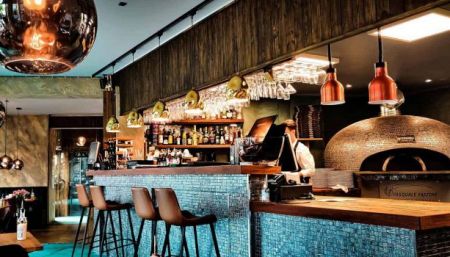 Terra Mia
Solid menu with a slap on Italy's authentic taste constellations.
Terra Mia
Nordsjælland
Solid menu with a slap on Italy's authentic taste constellations.
Why you should dine here:
Authentic tastes
You love the traditional Italian cuisine
Warm atmosphere and modern setting
Tap on the Italian notes
At Terra Mia, the attitude is that quality ingredients just taste better, and that you can not and must not compromise in the Italian cuisine and craftsmanship behind the traditional dishes.
At Terra Mia you get an authentic dining experience with strong and spicy aromas from the essential basil's essential oils, sweetness from the sun-ripened tomatoes and delicious fatness from the buffalo mozzarella, which is made in Campania.
Take a trip around Italy and say buon appetito with the menu that brings classic dishes to the table. Invite your better half or a good friend to creamy pasta dishes, rustic and hearty dishes with well-cooked meat, seasonal garnish and toast in round grapes.
The city's popular gem with a solid menu
If you book a table today, you may be able to join Terra Mia's crowd of great guest reviews on Tripadvisor:
"Really good and genuine Italian food with lots of flavor and cozy atmosphere in the restaurant."
"… Good service and atmosphere. It turns into recommendations and revisits. "
"Delicious food, Neapolitan pizza with a soft bottom and rich crust, delicious meat dishes and authentic atmosphere, good ingredients and fantastic service."
Cozy nooks with atmosphere
Terra Mia has a modern design and draws parallels to the Mediterranean with olive trees, wine boxes and bottles that are decoratively hung. Tables, chairs and brushstrokes are kept in dark shades and natural materials such as wood and leather. Sit back and enjoy a relaxed atmosphere with welcome servicing and follow the stone oven magic in the semi-open kitchen.