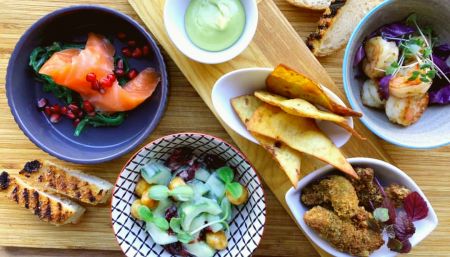 Temporada
Get competent service, taste traditional recipes and seasonal tapas snacks.
Temporada
Frederiksberg
Get competent service, taste traditional recipes and seasonal tapas snacks.
Why you should dine here:
Uncomplicated, Spanish tapas that taste
Top class service, food and wine experience
Åboulevarden's atmospheric tapas pearl
Seasonal Spanish tapas
Close to the Forum you can settle down for a hearty wine list and eat light, delicious specialties that settle on Spanish cuisine.
Temporada stands out as both a wine bar and restaurant, and ensures a perfect evening in addition to the season's best products. Here you eat traditional, Spanish tapas with extra good taste and enjoy the Spanish charm around the table. Here the menu includes both hot and cold dishes, fish, seafood and various cuts of meat. In addition, there is fresh greens, dip and delicious bread.
Recommendations from returning guests
Both Tripadvisor and Trustpilot praise Temporadas, traditional dishes and high level of service:
Lots of variety and accomplished delicious 100% homemade dishes. The owner Elo is wonderfully likeable, humorous and dedicated.
"The food was super delicious and they have a really good understanding of taste composition."
"Cozy little place with few guests this evening. Lovely tapas, wine and super friendly service."
Competent hosting
At Temporada, the owner, Elam - also called Elo - offers inside and together with his dedicated employees, they provide careful and competent service.
Sit at the table with a laid back feeling and enjoy time and place. Experience a warm hospitality, charm and and authentic cosiness.