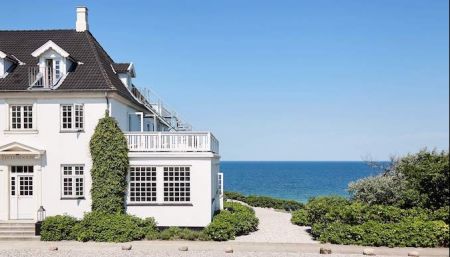 Helenekilde Badehotel
Delicate Nordic food accompanied with a beautiful view of the sea.
Helenekilde Badehotel
Nordsjælland
Delicate Nordic food accompanied with a beautiful view of the sea.
Why you should dine here:
Great view of Kattegat
Idyllic seaside hotel with a modern restaurant
Seasonal, Nordic constellations
Modernized setting with magnificent views
With a view of the setting sun over the Kattegat - sitting on a high, wide terrace -, Helenekilde Badehotel can boast of having one of Denmark's most beautiful locations. The beach hotel has been lovingly renovated by its new owner Alexander Kølpin, who in addition to being a restaurant owner can also write director, actor and former ballet dancer on his CV.

Go explore the north of Copenhagen
Take an excursion up the North Zealand coast, go for a long walk on the beach and end with a tasty meal at Helenekilde Badehotel, with a view you will soon forget.
Helenekilde Badehotel is charming regardless of the season. In summer, when the weather is calm and warm, one can run directly down to the sea on bare toes. In winter you can walk along the beach with a hat and gloves, while the wind blows and the water is wild.
Nordic taste experience
Returning from the beach, you can sit at a table in Helenekilde's restaurant. The decor is bright, Nordic and modern. The same applies to the menu, which offers simple, tasty food in Nordic style. Everything on the menu is made from scratch from the fresh ingredients of the season, which is why the menu varies with the seasons. The wine is similarly carefully selected from different continents.