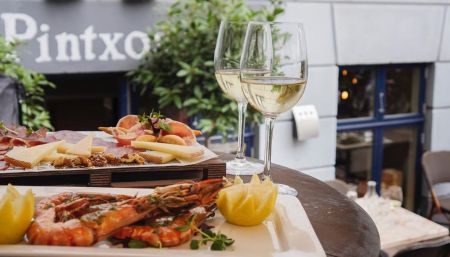 Pintxos
Authentic and tasteful tapas on Nansensgade.
Pintxos
Indre By
Authentic and tasteful tapas on Nansensgade.
Why you should dine here:
Authentic, Spanish restaurant experience
Travellers' Choice 2020 on TripAdvisor
The worldwide Spanish snacks
The Spanish tapas have their origins in the Andalusian bodegas in southern Spain, where they were shielded from the flies by placing a piece of ham or bread over the glass of alcohol. The edible lid was called tapas, and means lid.
Since then, tapas has evolved over generations into the food we know today, and is gradually becoming a widespread concept around the world. The idea of ​​small mouth-watering dishes is also found in other cultures, e.g. as antipasti in Italy or the Greco-Turkish meze.

Guests' warm recommendations
Satisfied stomachs, evocative evenings and words of praise are expressed by Pintxos' guests on TripAdvisor:
"Super delicious tapas restaurant in Copenhagen. The service was top notch, all the waiters were smiling and sweet"
"Super service, attention and absolutely delicious food"
"We were looking for an authentic Spanish tapas evening, and we got it 100 percent"

Authentic tapas
In northern Spain the traditional tapas are called Pintxos, which come from the small toothpicks that are found in tapas dishes from time to time.
The Pintxos restaurant focuses on small dishes of traditional Spanish origin - the authentic Spanish tapas are prepared by Spanish chefs and served by Spanish waiters.