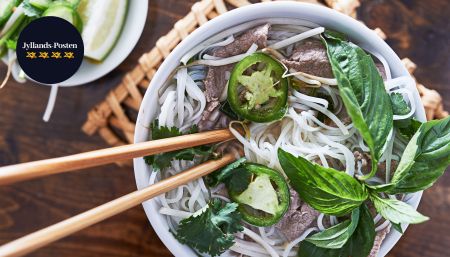 The Vietnamese
Vietnamese tasty with culinary ingredients gets 4 stars in Berlingske and JP.
The Vietnamese
Indre By
Vietnamese tasty with culinary ingredients gets 4 stars in Berlingske and JP.
Why you should dine here:
4 stars for 'fresh and delicious dishes'
Get drawn by Vietnam
Modern frames and colored dishes
Franciscan monk behind popular restaurant
"It is not every day that one is fed by a former philosophy student and Franciscan monk" - says Berlingske's food reviewer, Svend Rasmussen.
Just a stone's throw from the Marble Church and the heavenly playing church bells, you can get a little bite of paradise.
Here in the Garden of Paradise stand the Do Brothers, Duc Huy Do and Vinh Hien Do, who have Vietnamese roots and a philosophical approach to life.

Reviewer gives 4 stars and says
"The Do brothers are in control of their techniques and cultivate the fresh and delicious dishes of Vietnamese cuisine with sharp preparations, purity of flavors, high quality ingredients and a sensuality" - Words from the reviewer of Berlingske who acknowledges his visit with 4 stars
Jyllands-Posten gives 4 stars as well and at TripAdvisor you will find the reviews of guest saying:
"It was top class food"
"Such a lovely place. Polite and unpretentious service"
"Tasty and varied"
"... a super restaurant with extraordinarily friendly and attentive service"

The beautiful cuisine of Vietnam
Experience the cuisine of Vietnam which is considered as onbe of the healthiest kitchens in the world and has historical roots and exotic, tasty flavors.
The menu offers fresh and beautiful flavors and combines the fine balance of the traditional Vietnamese cuisine and the modern restaurant scene.