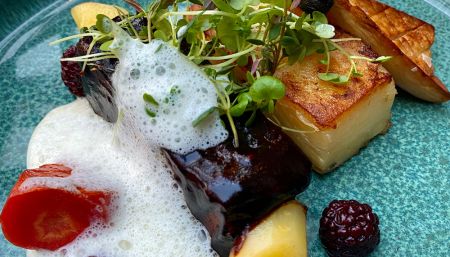 FRB Rådhuskælder
Enjoy generous classics during historic vaults at Frederiksberg Town Hall.
FRB Rådhuskælder
Frederiksberg
Enjoy generous classics during historic vaults at Frederiksberg Town Hall.
Why you should dine here:
Cozy setting at Frederiksberg City Hall
25 years of cooking experience
Own brewery and recognized distillery with award-winning gin
Atmospheric setting under Frederiksberg City Hall
Frederiksberg Brewery & Distillery houses historic premises in the middle of Frederiksberg. Refined dishes of an international character are eaten either under vaulted ceilings and polished wooden floors far below the dangling of the town hall bells or in the restaurant's charming bistro-glass extension, which has a view of stars, greenery and Frederiksberg's lively town hall square.

Popular Brasserie
Michel Zangrado has more than 25 years of restaurant experience and provides a classic, but also rustic menu with consistently Danish and seasonal ingredients of high quality, combined with hand brew and world-class spirits.
Guests compliment on Tripadvisor reviews:
"Damn good beer, and really fast service. The food is top class and it all plays, certainly not the last time I come"
"We were allowed to taste all the beers before we decided and got good stories about beer brewing etc .."

Quench your thirst with award-winning gin
At Frederiksberg Bryghus & Destilleri, high-quality beer and award-winning gin are brewed at the back of the kitchen, respectively. The quality is based on the good craftsmanship, experience and a portion of natural curiosity.
The brewery was added in 2014 and the distillery master, Henrik Hammer, has gained an international position with his gin brands; Geranium and Old English Gin.