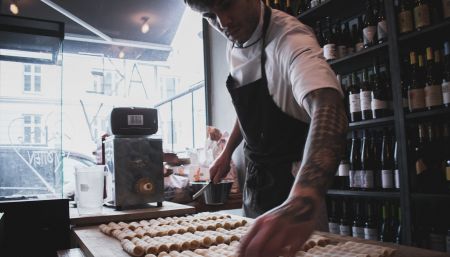 Beviamo
Italian food culture packed to go.
Beviamo
Østerbro
Italian food culture packed to go.
That's why you should buy take away here:
The taste of authentic Italy
Combine food and fine wine
Bring home the Italian food culture
Fill the carrier bag with treats from Beviamo. Here is the menu of creamy pasta dishes, homemade of course, delicious antipasti and refined grapes.
With a penchant for ingredients from the Italian hinterland, the kitchen elevates well-known dishes to complex and extraordinary dishes full of essence.
Serve a portion of food joy for yourself or someone you love and share a full, harmonious bottle of wine.

Guests say
"Delicious food and what a wine list." - Review from Facebook
"… FAN-tasting food and all for a find for the money." - Review from Facebook
"Beviamo - a cozy Italian wine bar in Copenhagen with a large selection of wines and good, authentic Italian dishes." - Review from Tripadvisor