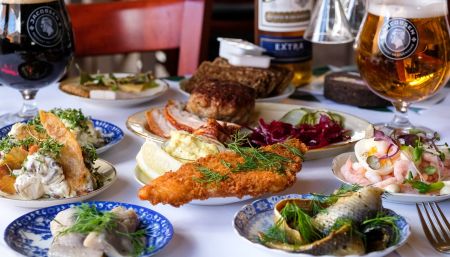 Restaurant Nyboder
National, classic goods and inn-living room atmosphere in the cozy city district, Nyboder.
Restaurant Nyboder
Indre By
National, classic goods and inn-living room atmosphere in the cozy city district, Nyboder.
Why you should dine here:
Classic Danish food that tastes
Inn-living room cosiness with vibrant atmosphere
Host at eye level
Danish concept
There is an atmospheric inn-living room cosiness at Nyboders Køkken. The hosts, Søren Haahr and Sandra, run the bistro with love for the historic city district and place a high value on cosiness and the benefits of Danish cuisine.
You sit reclining, under exposed rafters in the green living room, with white-green checkered tablecloths on the tables, brass candlesticks with candles, granny frame and shot glasses. The smell of Danish food spreads from the kitchen pots and Margrethe hangs high and looks out over today's audience. Together with the royals, old illustrations, art and Danish celebrities such as the Olsen Band adorn the walls.
The atmosphere is vibrant and brings together friends and acquaintances. Get nicely saturated with a relaxed, welcoming atmosphere, be reminded of old times and share a robbery story or two.
Completed concept hitter on TripAdvisor
"The place oozes coziness and nostalgia, generous pictures adorn the walls and checkered tablecloths on the tables."
"… The best roast pork in town."
"Completed Danish restaurant, where both the food, the decor and the attire bring to mind old Danish food."
Classic Danish menu
Nyboders Køkken offers a solid, Danish menu with everything the heart desires from the classic, Danish cuisine. The cold table tempts with a little of everything - rinse e.g. The skipper's potato dish or a piece of the Captain's herring down with a freezing cold schnapps or flavor of the tartar stirred with Cognac.
Hot classics such as Wienerschnitzel, Plaice and fried pork can be enjoyed in the evening with a dewy beer.