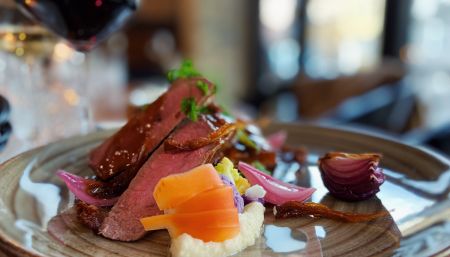 Brasserie Piaf
The Francophile gastronome will enjoy the competent taste constellations.
Brasserie Piaf
Midtbyen
The Francophile gastronome will enjoy the competent taste constellations.
Why you should dine here:
The French gastronome will love the tasty constellations
You love boeuf bourguignon
Atmospheric setting - ideal for a dinner for two
Classic French with accent
Brasserie Piaf must be visited by the Francophile guest who wishes an authentic gastronomy experience. At Piaf the menu speaks French and the staff Danish with an accent and a portion of humor.
The French cuisine is known for being competent with aesthetic taste constellations. Piaf is not without exception. There are seasonal ingredients, wild meat, fish and classic dishes such as snails, boeuf bourguignon and a joyful Gateau Marcel on the menu.
A dinner for two
Try Brasserie Piaf's cuisine and invite your girlfriend out for a romantic dinner. Here, the familiar music plays, the light is dimmed and the interior is inspired by the Mediterranean.
Guests say on Tripadvisor:
"… Service was super good and there was a mega cozy atmosphere in the restaurant!"
"Really cozy and atmospheric restaurant. Delicious food prepared from scratch from good ingredients."
Team with af drive
With a penchant for the French cuisine Chokri Arfaoui and team-Piaf manage the brasserie to perfection. Chokri is the former owner of restaurant Le Basilic in Mejlgade and has over time created magic in the industry.
In addition to the kitchen temptations you'll get a careful service at eye level. Look forward to a sensory-saturated brasserie experience in superb bistro settings.