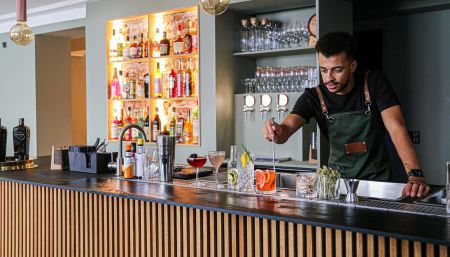 Culpa
Sinful drinks, cold beers, stylish, Nordic setting and room for negligent fun and coziness
Culpa
Indre By
Sinful drinks, cold beers, stylish, Nordic setting and room for negligent fun and coziness
Why you should visit this bar:
Room for cosiness and fun
Sinful drinks
Sinful cocktails and cold beers
Visit Sankt Peders Stræde 45 and take a seat in the stylish setting with Scandinavian, clean lines, a douche color palette and a relaxed and warm atmosphere with knowledgeable bartenders behind the bar.
Culpa provides you with sinful drinks and other refreshing beverages. Spirits are lined up in a row and the cocktail menu offers both spicy and imaginative drinks at more affordable prices - so there is good reason to taste the goodies.
The city's new Cocktail Bar
AOK quickly sniffs its way to the city's new and exciting restaurants and bars, and Culpa bar is no exception. In a short interview, bar manager, Thomas Thranow, says, among other things:
"For me, creating a well-functioning cocktail card is like composing a work"
His interplay of ingredients and spirits is also accelerated by thirsty guests reviewing on Facebook:
"Exciting signature cocktails, good atmosphere and polite bartender"
Room for negligent fun and coziness
As a funny note, Culpa is a legal term for 'negligence'. At Culpa there's room for a cozy evening and a little time of fun. Have a drink with your colleagues after work or have a cheerful evening with the company of your friends.