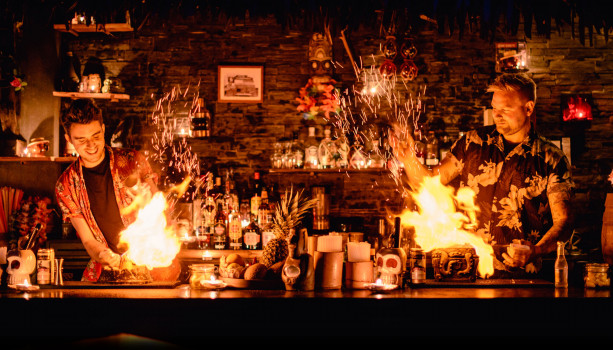 Brass Monkey
A world of tiki, rum and hula in the middle of Vesterbro.
Brass Monkey
Vesterbro
A world of tiki, rum and hula in the middle of Vesterbro.
Why you should visit this bar:
Release your inner Hula
Authentic, tiki universe
You love rum
Implemented hula concept
Brass Monkey welcomes you to a world of tiki, rum and hula. Here in the middle of Vesterbro you are led directly to warmer destinations like a beach along the South Pacific.
The decor matches the drinks' perfect tiki style - palm leaves, colored lamps and tealights in seashells form the framework for a complete experience.

The country's biggest rum collection
You'll find the country's biggest collection of rums at Brass Monkey, but even if you're not a rum lover, fear not - the drinks range spans a wide range of spirits. Guests say on Facebook:
"Super cool place A ++ Good atmosphere, good music and great service."
"… Cocktails out of the ordinary."

Secret recipes and colored Hawaiian shirts
It's never boring at Brass Monkey! The cocktails are shaken and served by bartenders in Hawaiian shirts and presented in everything from monkey inspired cup-heads, volcano-like mugs with fire on top and hollowed out pineapples.
Soak yourself in various tiki-inspired cocktails. Whether you are into the sweet tones or full aloha on the alcohol, Brass Monkey has a drink to your liking. Each cocktail has its own story and all the recipes are kept secret from the guests.