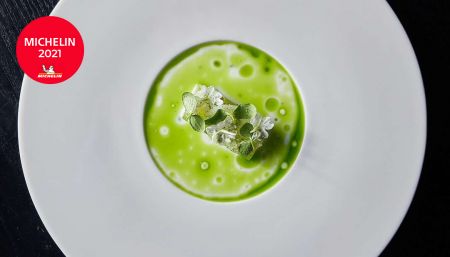 Restaurant Mes
New Nordic gourmet by former chef at Noma & Geranium.
Restaurant Mes
Vesterbro
New Nordic gourmet by former chef at Noma & Geranium.
Why you should dine her:
Michelin recommendation 2021
Former Michelin chef plays in the kitchen
Gourmet that is affordable
New location at Vesterbrogade 55
Former Noma and Geranium chef serves his own favorites
Mads Rye Magnusson has the prerequisites to run a kitchen of a special caliber. His vision is to give his guests an 'affordable luxury' restaurant experience based on his own favorites.
The ambition is reflected by the name 'Mes' which in French means 'mine'.
The kitchen style is modern but unforced, Nordic gourmet cuisine - and you will find few but very elegant dishes on the menu.

MASTER performance gives stars and a Michelin recommendation
Restaurant Mes is recommended in the Michelin Guide for the classic dishes and modern techniques used in the kitchen.
Berlingske applauds with 5 stars:

"Mads Rye's food has both elegance and personality, and with super service and a wine list of the highest quality, Mes will not be a clutter shop, but a small personal MES masterpiece"

A growing restaurant
Restaurant Mes has recently moved to Vesterbrogade 55. The furniture is still stylish and forms an exquisite setting. The surroundings still exude fine-dining with warmth, atmosphere and has a space for informal coziness.