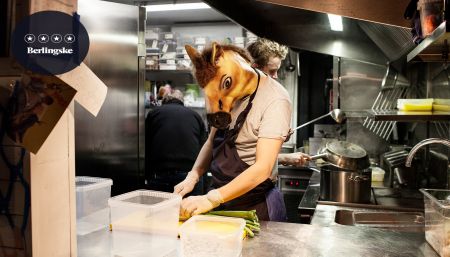 Punk Royale
Punk Royale: Where gourmet meets punk
Punk Royale
Indre By
Punk Royale: Where gourmet meets punk
Imagine a place where cheap cutlery meets exclusive caviar, painted doll heads meet fois gras, and graffiti walls meet IKEA furniture. And that the meeting is successful. The name of the experiment is Punk Royale, which in itself indicates the collision between gourmet eating and an anarchist atmosphere.

"You can't compare our dining experience with anything else," Joakim Almqvist explains. Together with Kalle Nilsson he started the first Punk Royale in Stockholm but they have now decided to expand to Copenhagen. What is so unique about Punk Royale? The restaurant has no rules - besides "cooking the shit out of people" and strive to serve the best food in the street.

The Swedish couple grew up in a lazy, 'pizza town' south of Stockholm. When they, as young boys, experienced finer restaurants for the first time, they were fascinated by the aesthetics of gourmet food, but repelled by the mood at gourmet restaurants. It was stiff and unwelcoming. "Everything can't be punk, just like everything can't be royal. It's too boring, "says Joakim. In contrast to the normal gourmet restaurant, the two Swedes, therefore, want to maintain a focus on the quality on the plate, but change the context around the plate.

You, for example, have to fight your way through smoke from a smoke machine and torn curtains to enter Punk Royale. In the middle of the restaurant, you will find an old dollhouse used as a drinks cabinet. In addition, you are expected to eat caviar from your own hands.

Søren Frank from the Danish newspaper Berlingske found it difficult to get the normal grading scale to fit the concept of the restaurant, where gastronomy and performance go hand in hand. He, however, ends up reviewing Punk Royale with 4 big stars - with an arrow pointing upwards towards 5 stars for the spectacular performance.

Order a table at Punk Royale if you dare to get a playful and unforgettable evening.