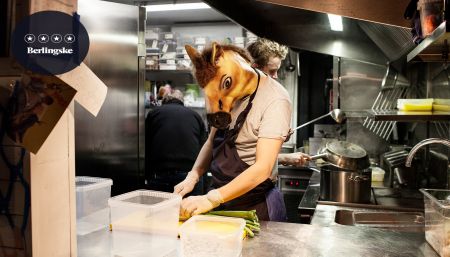 Punk Royale
A playful theater-dining experience - gourmet and rebellious punk settings.
Punk Royale
Indre By
A playful theater-dining experience - gourmet and rebellious punk settings.
Why you should dine here:
A gourmet theater experience you will never forget
Playful restaurant with rebellious undertones
4 stars in Berlingske
Skewed contrasts without rules
Imagine a place where cheap cutlery meets exclusive caviar, overpainted doll heads meet fois gras and graffiti-covered walls meet IKEA furniture. And that the meeting is successful.
The name of the experiment is Punk Royale, which in itself indicates the collision between gourmet dining and the anarchist atmosphere of the youth center.
"You can not compare our dining experience with anything else", describes Joakim Almqvist, who together with Kalle Nilsson started the first Punk Royale in Stockholm, but has now expanded to Copenhagen. And yes, these are two Swedes who are creating revolt on the Danish restaurant scene. For Punk Royale has no rules - other than "cook the shit out of people".

4 stars for the spectacular performance
Søren Frank from Berlingske had a hard time getting the normal rating scale to fit down over the concept restaurant, where gastronomy and performance go hand in hand, but end up with 4 big stars with the arrow pointing upwards for the spectacular performance.

A Playful universe
The focus is on the quality of the plate, whereby the context around the plate changes completely.
For example, you have to fight your way through the smoke machine and torn curtains to step inside at Punk Royale. In the middle of the restaurant you will find an old doll's carriage as a bar and a half-filled drying rack. And then you should expect to eat caviar by hand.
Book a table at Punk Royale if you dare to have a cross-border, playful and unforgettable evening.