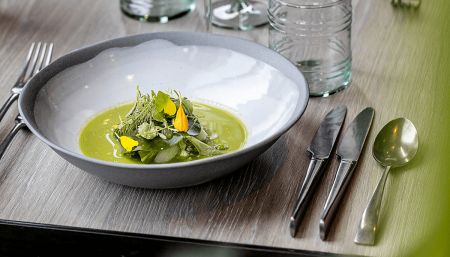 Ansvar
Sustainable principles and green gourmet by former Michelin chef (Noma) at the top of Kalvebod Brygge.
Ansvar
Vesterbro
Sustainable principles and green gourmet by former Michelin chef (Noma) at the top of Kalvebod Brygge.
That's why you should dine here:
Green gourmet at the top of Kalvebod Brygge
Chef with 10 years of Michelin experience, i.a. Noma
Sustainable concept with organic, local and biodynamic products
View of Copenhagen Harbour
Organic gourmet cuisine - more taste and structure
The focal point for restaurant Ansvar is ecology and sustainability. Here at the top of Kalvebod Brygge, there is fresh air, a view and a taste of today's gastronomic experience.
With respect for the origin of the raw materials, responsibility is taken for the individual product, where taste and consistency are celebrated. Based on the green kitchen, you eat e.g. cabbage from the biodynamic horticulture, Rønnely, and other delicious, green, quality ingredients that the chef uses personally in the menu's 5 dishes.
Foreign Michelin experience in the kitchen
With 10 years of experience from Michelin restaurants (including Kokkeriet and the 3-star restaurant Amador in Austria), head chef Martin Sørensen brings experimental artistry to service.
Be one of the first to taste the chef's subtle dishes and take part in the green story presented at the table. At Ansvar you get an informal fine-dining experience with good hospitality.
On Dinnerbooking guests reply: "Really delicious food, friendly staff and a good view. And great that the restaurant and bar are open to people other than just hotel guests!"
"Great experience that MUST be tried, all the dishes are in perfect balance with their drinks menu"
"Incredibly tasty umami experience. Didn't think vegetarian gourmet food could taste so delicious"
Sustainable oasis with a view
If you eat on top of Kalvebod Brygge and the new Scandic Spectrum hotel, it's not just the gastronomy that matters. With peace of mind, you can sit down at the table at restaurant Ansvar - Greenery Lab - drink organic or biodynamic drinks and sit comfortably in sustainable surroundings.
The style is thoroughly Nordic with high ceilings. The atmosphere is fresh, exudes openness with large windows, and from the roof terrace you can enjoy the bar's innovative drinks and the view of Copenhagen.