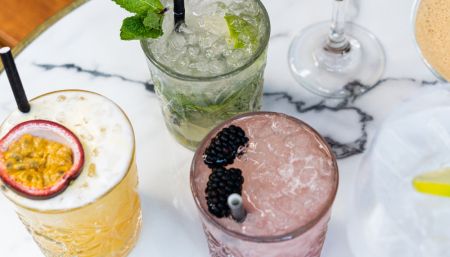 Dining Room
Tasty cocktails, chill vines and tapas delights at the chic dining bar.
Dining Room
Indre By
Tasty cocktails, chill vines and tapas delights at the chic dining bar.
Why you should visit this bar:
Tasty cocktails
Flavorful grapes
Snacks and tapas delights
Modern bistro bar - cocktails & Mediterranean food
At the Dining Room Bar (formerly the Coffee Room), the menu is no longer just about coffee. Since 2011, Copenhageners have been able to enjoy quality coffee and breakfast at the dining bar. Now you can eat brunch, lunch and dinner.
Meet colleagues or a good friend for a glass of wine or a spicy evening cocktail. The Dining Room serves delicious cocktails, both well-known classics and drinks with a twist. The Espresso Martini is of course made with the most delicious coffee from The Coffee Collective. And with percentages and fresh ingredients, the bartender performs magic behind the counter and shakes colorful and seductive drinks.
Siesta moments at chic bistro bar
On a side street to Strøget, Silkegade 1, hides behind the windows a Mediterranean-inspired dining bar with mosaic-patterned floors and French-inspired interior, café tables and chairs. The music is subdued, the atmosphere informal and the staff are smiling and ready to serve.
Book a table today and get a relaxed bistro experience with a light dish and a good bouquet in the glass.
An Early Bird guest has already reviewed: "The wines tasted good and matched the food".
Light, Mediterranean-inspired temptations
The owners behind the dining bar have an eye for the environment and strive to avoid food waste and therefore trade with suppliers where the good, sustainable values are secured and equal to their own.
The kitchen is based on Mediterranean cuisine, and on the menu you will find the popular pasta dishes and exquisite deli boards.