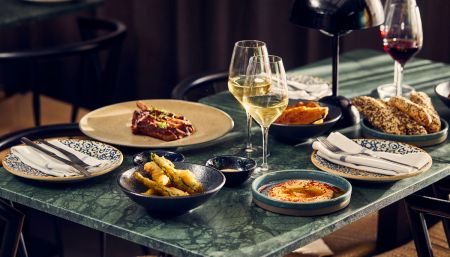 Restaurant Mist
Chef from Noma & Geranium opens new restaurant with tasty flavors and chic settings.
Restaurant Mist
Vesterbro
Chef from Noma & Geranium opens new restaurant with tasty flavors and chic settings.
Why you should dine here:
Former chef from Noma & Geranium creates beautiful menu
The best flavors of Europe's culinary landscape
'Affordable luxury' gourmet experiences - also for everyday dining!
Chic and modern New York atmosphere
Follow along the restaurant's open kitchen
Star chef and owner with previous Michelin experience
Look forward to the star chef's beautiful dishes with top-class taste and finesse. With experience from Noma, Geranium, El Bulli and Falsled Kro, chef and owner, Mads Rye Magnusson, brings playful techniques and sublime flavors to Mist's menu.
Mist is his newest restaurant. As owner of the renowned restaurants Meille and Mes, he has also received the Michelin Guide's warmest recommendations several years in a row, recently in 2022.
'Affordable luxury' gourmet with European flavors
At Mist, the flavor palette draws parallels to the Mediterranean countries and our own Nordic latitudes. The quality is absolutely essential, and the focus is on both ecology and the best flavors of the season.
Taste the best of Europe's diverse cuisines and enjoy a menu designed to be shared.
Let Mist be your new everyday restaurant and get personal, gastronomic experiences in the gourmet class that are affordable - without compromising the quality.
Open cuisine and New York vibes
Located on Vesterbrogade, Copenhagen's pulsating heart, Mist brings a bite of "The Big Apple" to the Danish capital.
Here, the cosmopolitan atmosphere and modern New York vibe merge with the Nordic aesthetic design and the warmth of the South. The combination of industrial elements, raw brick walls, Danish design and olive trees harmonize to perfection.
Mist is a chic, urban oasis where you can relax in the middle of the big city.
Their open kitchen is a living theater where you can follow the entire culinary process, from preparation to presentation and serving.