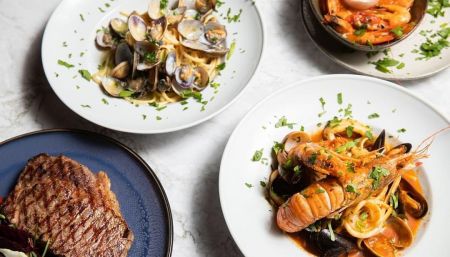 L'Imperatore
Italian specialties, world-class meat and authentic recipes by a Sicilian-born chef.
L'Imperatore
Østerbro
Italian specialties, world-class meat and authentic recipes by a Sicilian-born chef.
Why you should dine here:
Sicilian-born chef
Carefully selected quality meat
Homemade pasta and classic Italian menu
Atmospheric Italian ristorante with warmth
The Emperor of Olufsvej
Head chef, Armando Di Raffaele, was born and raised in Sicily. As a young man, he worked in the family restaurant but was passionate about opening his own restaurant.
In Northern Italy, Bolzano, the dream came true with ristorante L'imperatore, which means the emperor and refers to Emperor Joseph, who once lived in the same building.
Today, L'Imperatore has moved to Østerbro, on the corner of Olufsvej. Armando packed his suitcase with Sicilian goodies and family recipes. Enjoy the emperor's classic Italian dishes, specialties, and world-class meat.
Quality meat and Italian specialties
The kitchen is naturally Italian but in addition to Sicilian specialties, good and grilled quality meat is in focus too.
L'Imperatore offers homemade pasta, freshly baked bread, organic vegetables and a various type of meat cuts. For example, enjoy a juicy steak of Sashi meat. Sashi meat is rich in umami, well-marbled, and has been voted the best meat for several years in a row.
The menu also features delicious ribeyes and T-bones, carefully selected by the local butcher.
The Italian cuisine is a hit
We love the Italian cuisine. On Google, guests say, among other things about food and atmosphere:
"A piece of Sicily".
"Genuine, unpretentious and honest good food at affordable prices".
"The food, wine and service are top class".
"Good and attentive service".