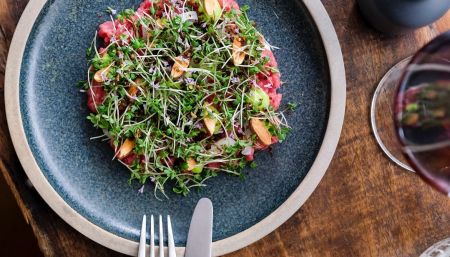 Lille Norrlyst
First-class, Danish gourmet with Michelin experienced chef from Kadeau.
Lille Norrlyst
Indre By
First-class, Danish gourmet with Michelin experienced chef from Kadeau.
Why you should dine here:
Chef with Michelin experience from Kadeau and AOC
Gourmet does not have to cost a fortune
Danish delicacies like you have never tasted them before
Danish cuisine with Michelin-experienced chef
In the kitchen is head chef Emil Eshardt, who has previously been able to make his mark on the menu at Søllerød Kro and the Michelin restaurants Kadeau and AOC. Now he is responsible for the gastronomic work at Lille Norrlyst and the sister restaurant, Norrlyst.
Here Emil unites the Danish-grown backyard and the best local and organic ingredients, and the result is an exquisite menu of great creativity, aesthetics and endless quality - it is Danish in the gourmet class.
A gourmet concept
On TripAdvisor, it is recommended to visit Lille Norrlyst for their personal service and serving of a Danish-Nordic menu in a class of its own.
"Dining experience beyond the usual, where all dishes on the menu were well thought out and tasted, to perfection. They have a fairly small evening menu, which means that all dishes follow the season and everyone is good and fresh. In addition, there was sweet and polite service"
"Aden The food is well cooked and extremely tasty."
"Can't get my arms down. Each dish had a perfect size so we were comfortably satiated. Truly one of the best experiences in a long time."
Informal restaurant experience
A visit to Lille Norrlyst is an experience in a class of its own, and the restaurant only has room for 14 guests, so there is a rift about the seats.
Sit at the table in the elegant setting and enjoy an unpretentious, knowledgeable service. Get guided to the perfect grape on the map and get a complete restaurant experience.