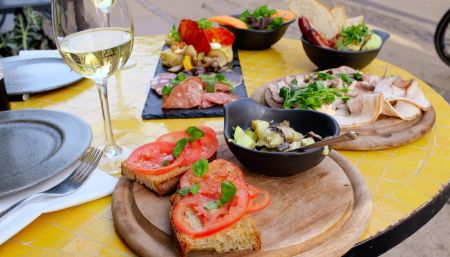 COMBO-Street Wine
Chik wine bar with southern notes on the plate and in the glass.
COMBO-Street Wine
Vesterbro
Chik wine bar with southern notes on the plate and in the glass.
Why you should dine here:
Get a tasty glass of good quality
Informal respite with vibrant atmosphere
Mediterranean dishes when you are a little hungry
The menu's southern notes
The hip Frederiksberg has got a local gem that serves delicious grapes and light dishes a la tapas-style. The taste nuances exude the southern sun, and the mouth-watering goodies include on delicacies, sausages and cheeses and hot portions.

A local and safe hit
Local and foreign guests have spotted the city's new wine and snack pusher and are delighted by the spicy bottles, the menu's small dishes and COMBO's vibrant atmosphere. On Facebook guests say:
"Super delicious, simple and complete"
"Amazing atmosphere, fantastic wine and really great service. Me and my friend were being pampered all night"

Wine bar with chick atmosphere
COMBO has been decorated simply, but appears with chik elegance with art on the burgundy colored walls and chandelier in the ceiling. The large windows from floor to ceiling open up the room and have soft vaults and bars that stand in good contrast to the room's raw materials such as stones and tiles on the floor.
Take a seat at the tall, round bar tables and follow the vibrant life on Vesterbrogade. Be inspired by the wine list or take a look around the shelves, which are filled with liquid bottles in bottles.
In addition, the atmosphere is warm and the staff smiling and sociable.