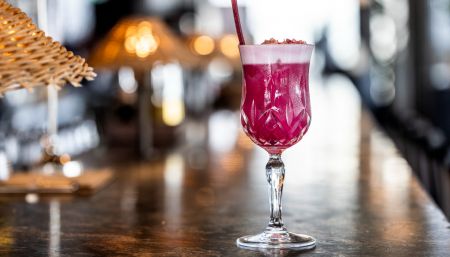 Ansvar
Refreshingly cocktail hour
Ansvar
Vesterbro
Refreshingly cocktail hour
Why you should choose this bar:
Modern settings with a roof terrace and view of Kalvebod Brygge
Cocktail hour on top of the Spectrum hotel
Sustainable bar shakes innovative cocktails
Cocktail hour on top of Kalvebod Brygge
Combine percentages and views with a sustainable concept at Ansvar - restaurant and bar in one - on top of the Spectrum hotel.
Here, toasts are made to organic or biodynamic drinks and the bartender shakes percentages in the bottle. Take a seat on the bar stool and see the magic behind the bar counter. In a stylish, Nordic setting, you can enjoy the drink card. Bring the good company with you, enjoy the atmosphere and possibly find a spot on the roof terrace.
Refreshingly good
Set the tone for the evening with a cocktail at Ansvar, which raises the cocktail level in terms of illusion, colors and choice of ingredients.
Here, drinks are shaken with e.g. once smoked vodka, a touch of Bitter, floral wine, fresh fruit, herbs and greens or exciting liqueurs and syrups.
Try e.g. a Cherry Spritz with orange liqueur, fresh cherry juice, Pet Nat and fresh herbs. Or an Appel Sin with fresh apple, apple brandy, Absinthe, orange liqueur and freshly pressed apple cider.
The guest says:
"Really delicious food, friendly staff and good view. And great that the restaurant and bar are open to people other than just hotel guests!"
Should you be hungry, Ansvar tempts you with green kitchen delights from their Greenery Lab.